Audible Gift Memberships
Ivory casket, Fatimid Sicily or Southern Italy, 11th-12th Centuries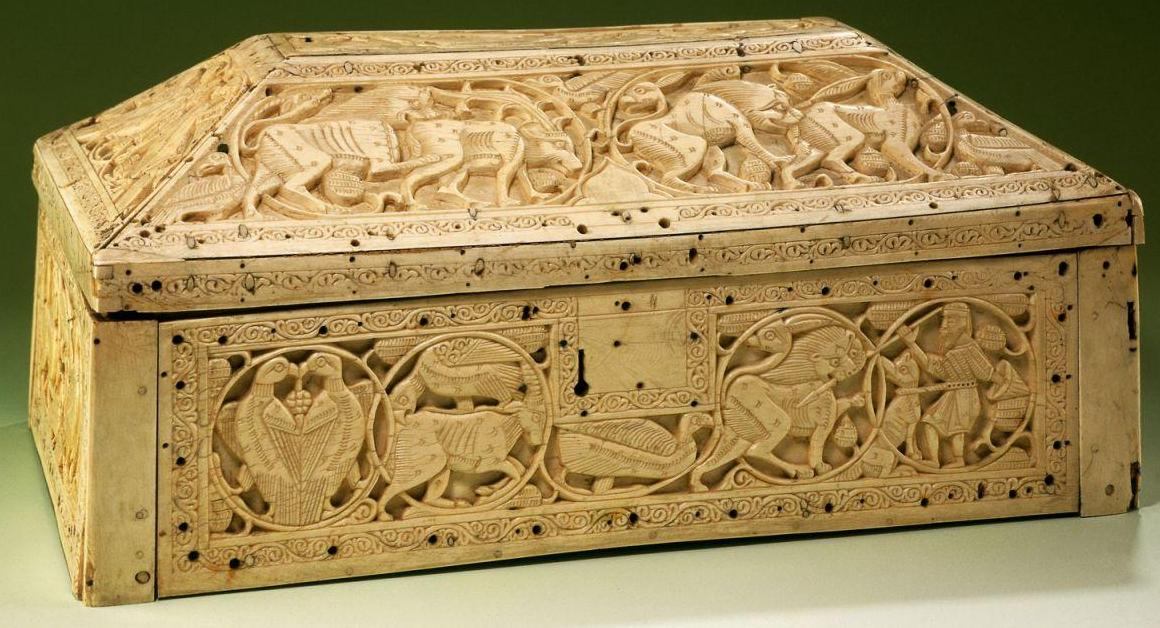 A rectangular casket, with a desk-like lid, made of individual pieces of ivory that have been joined together. The lid is attached by two silver clasps/hinges, which were made at a later date, and the padlock has been lost. Various holes that have been bored through the casket demonstrate its chequered history and the possibility that it had an indefinite number of iron fittings. The bottom excepted, the entire box is covered in decorative animal-motif friezes, which are framed by narrow bands of tendrils of half-palmettes. Animals and animal fights, composed in both a stylised and a freehand form, are found on the panels. Circular tendrils overlap the animals. A great variety of animals are represented: lions, hares, ibex, stags, camels, giraffes and birds. Mythological creatures such as griffins are also included. The animals are portrayed as fighting one another or as being pursued by hunters. The human figures appear as hunters or camel leaders. One of the caskets from the Egyptian group, of which this one is part, states in Latin script the name of one of its patrons, which leads to the assumption that these caskets could have been made by Arab craftsmen, working in the Fatimid tradition in southern Italy, on the commission of wealthy patrons. The animals belonging to this group bear such a close resemblance to those on a group of oliphants that it is possible that the workshops produced both caskets and oliphants. A similar stylistic depiction of animals can also be seen on 11th-12th century buildings in southern Italy, so it can therefore be assumed that the animal motifs held a particular fascination in Europe as well.

Date: Hegira 5th-6th centuries / AD 11th-12th centuries.
Period / Dynasty: Fatimid.
Region: Sicily or southern Italy.
Museum of Islamic Art at the Pergamon Museum, Berlin, Germany. Museum Inventory Number: K 3101. Museum with no Frontiers

Rear view of the Ivory Casket, Fatimid Sicily or Southern Italy, Museum of Islamic Berlin, Art K 3101.

Previous: A carved ivory horn or 'oliphant', South Italian, Metropolitan Museum of Art, New York
Next: Figure with Goblet on Fatimid Bowl, 11th-12th century, Islamic Museum, Cairo
Back to a smaller image of this Ivory casket, Fatimid Sicily or Southern Italy, 11th-12th Centuries. Museum of Islamic Art at the Pergamon Museum, Berlin, Germany. Museum Inventory Number: K 3101.


---
Muslim influenced Illustrations of Costume and Soldiers from Sicily and Southern Italy