Prime Student 6-month Trial
Drawing of Man with Lamp, Fustat, Fatimid Egypt, 11th Century.
Keir Collection No. 75781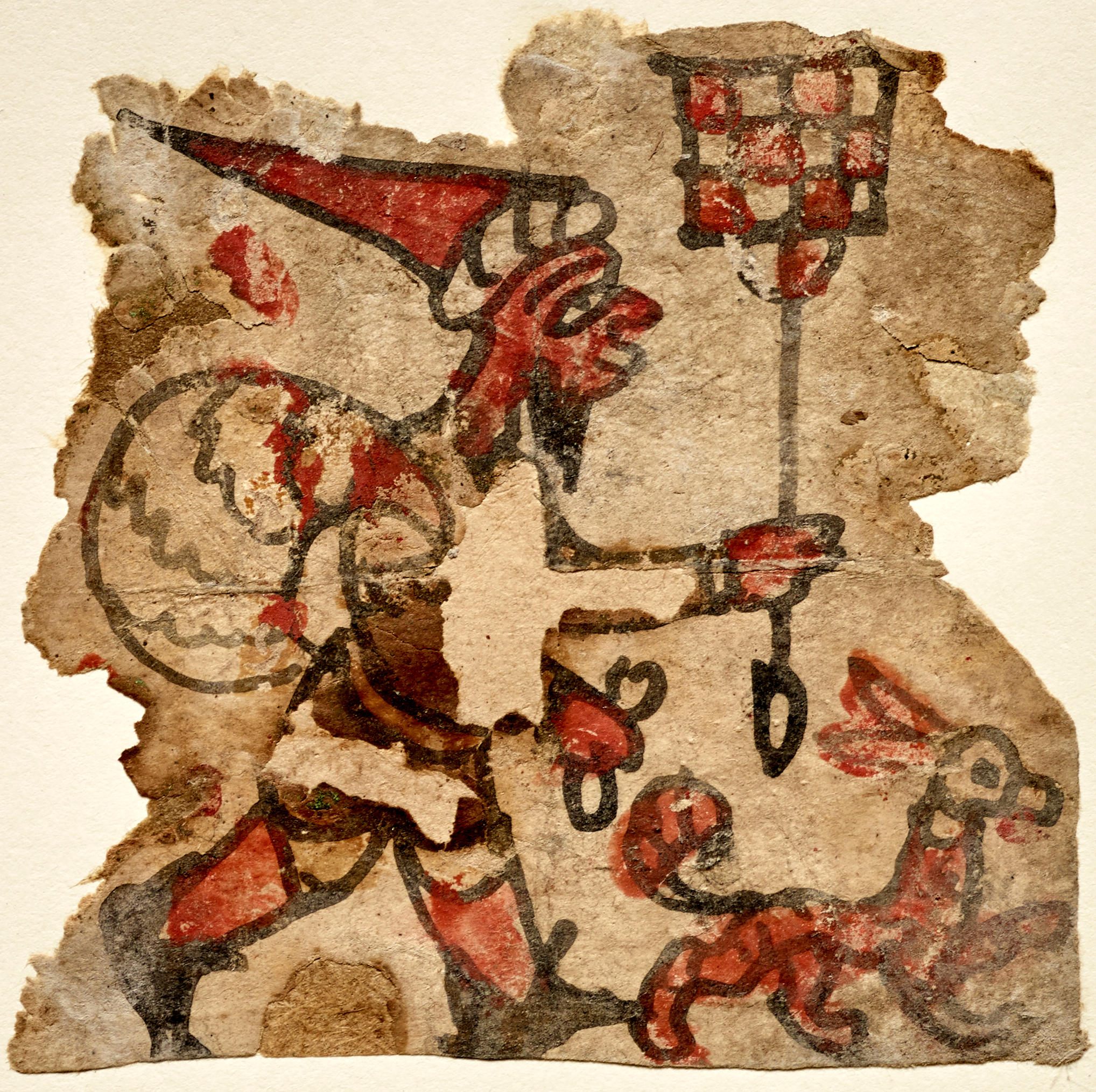 Drawing of Man with Pointed Hat and Dog
DATE: n.d.
MATERIAL AND TECHNIQUE: Work on paper
CLASSIFICATION: Works on Paper
DIMENSIONS: Sheet dimensions: 20 7/8 × 15 3/8 in. (53.02 × 39.05 cm) Mat dimensions (external): 3 1/2 × 3 1/2 in. (8.89 × 8.89 cm)
DEPARTMENT: The Keir Collection of Islamic Art
CREDIT LINE: The Keir Collection of Islamic Art on loan to the Dallas Museum of Art
OBJECT NUMBER: K.1.2014.1155
General Description: Keir catalogue number I.050
Source: Dallas Museum of Art



---


Among the many unpublished fragments with paintings and drawings that have come to light in the rubble heaps of Fustat is a small coloured drawing in the Keir Collection1 (Fig. 1). It shows the figure of a man carrying a heavy bundle or sack thrown over his shoulder which he holds with his right hand while carrying a cresset lamp in his left. He is accompanied by his dog who is prancing ahead at a lively pace.
The drawing is executed in a thick black line with some carelessly applied colour, red and ochre-yellow, on a square (87 per 87 mm) of fairly thin, smooth, grey paper. The paper has been folded at the center, both vertically and horizontally, which undoubtedly accounts for the loss of a chunk in the center. The paper is torn irregularly almost all around the edges. On the reverse there are a few lines of text which have almost entirely faded away.
The drawing may well been an illustration in a manuscript, and what remains is still enough to allow an assessment of the type and quality of work, and a possible attribution to a genre and to a time and place. The most striking elements of this small drawing is surely its subject matter, although its distinct manner of representation — basically simple in technique yet with great immediacy of impact — merits equal attention.
Source: pp. 147-148, Grube, Ernst J. "A COLOURED DRAWING OF THE FATIMID PERIOD IN THE KEIR COLLECTION." Rivista Degli Studi Orientali, vol. 59, no. 1/4, 1985, pp. 147–174.


Previous: Carved Ivory Plaque with Dancer, Fatimid Egypt, 11th Century.Museo Nazionale del Bargello, Florence, 80c 5.
Next: Bowl with Labourer Carrying Basket, Fatimid Egypt, c.11th Century. Cairo Museum.
Back to the smaller image of this Drawing of Man with Lamp, Fustat, Fatimid Egypt, 11th Century. Keir Collection No. 75781.


---