Prime Student 6-month Trial
Sicilian Ivory Casket with Hunters
Cappella Palatina, Palermo, 12th or 13th Century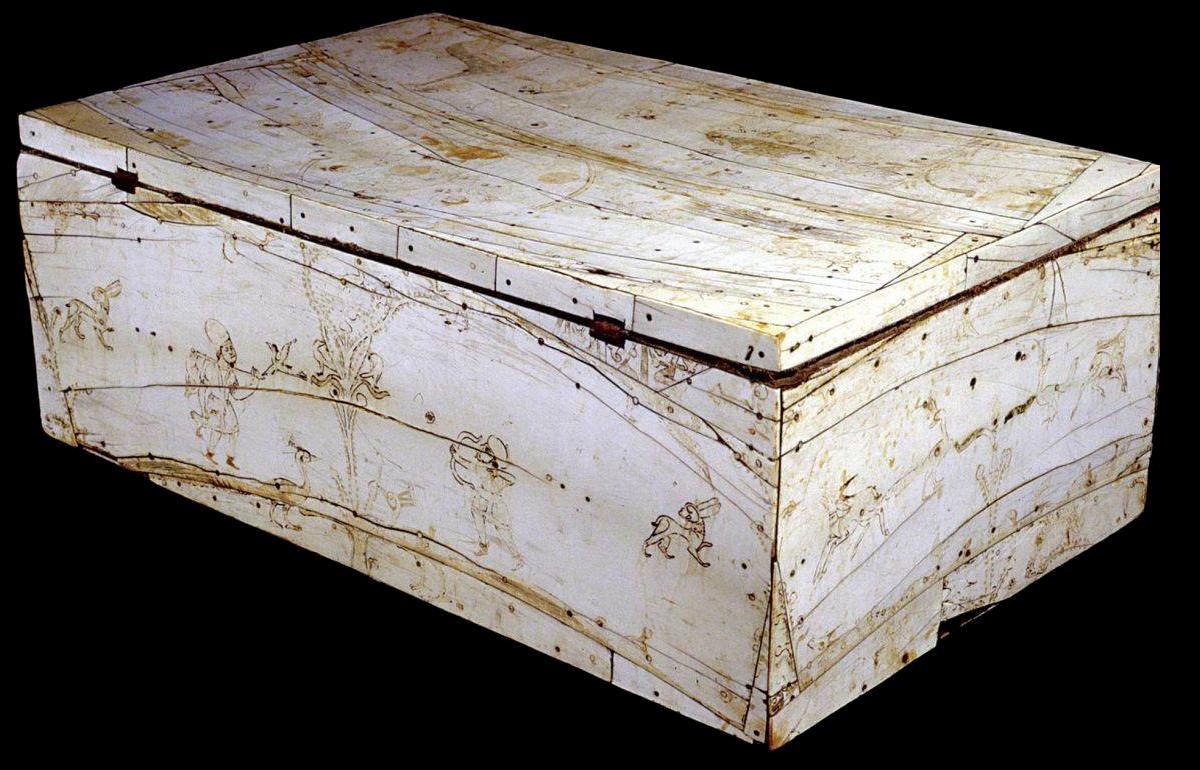 Painted Ivory Box, Sicily, 12th or 13th Century
Holding Museum: Palatine Chapel, Treasury, Palermo, Italy
Dimensions: Height 18 cm, width 48.5 cm, depth 29.5 cm
Materials / Technique: Painted ivory on a wooden frame. Designs in black with water-based colour and gold leaf.
Artist(s) / Craftsperson(s): Islamicised Sicilian workers.

Description:
The piece belongs to the genre of chests with a rectangular body and flat lid.
The decoration, in watercolour black and gilding following the style of Muslim illuminators, covers the entire chest, showing the medley of Christian and Islamic art that can be seen in some well-known examples, including the caskets at Veroli Cathedral and the Bargello Museum in Florence.
The top of the lid shows an image of Christ between two saints within a medallion, beside which are the images of two cheetahs, one pursuing a gazelle and the other a hare. On the bottom right there is a figure of a giraffe accompanied by two keepers spurring it on, while to the left there is an image of a richly harnessed elephant, which appears to be uprooting a small tree with its trunk.
The main sides of the casket bear animal scenes characterised by hunters stalking their prey on foot, founding an iconographic type unique among caskets at that time.
The sides are characterised by a small stylised tree, probably a tree of life around which a pair of peacocks and a pair of birds face each other. This image is also reproduced on the lower decorative bands of the two main sides, with minor variations in the bird species depicted by the tree.
The motif of the dogs and cheetahs chasing gazelles is repeated rhythmically at the bottom of the four sides. Small birds and peacocks alternate along the top edge of the chest near to the lid.
In terms of its decoration, the piece can be most readily compared to the mosaics in the Ruggero Hall and in the paintings on the wooden ceiling held by the Regional Gallery of Palermo.
Source: Discover Islamic Art Prepared by: Maria Ilaria Randazzo

---

Referenced on p.258, Arms and Armour of the Crusading Era, 1050-1350, Western Europe and the Crusader States by David Nicolle.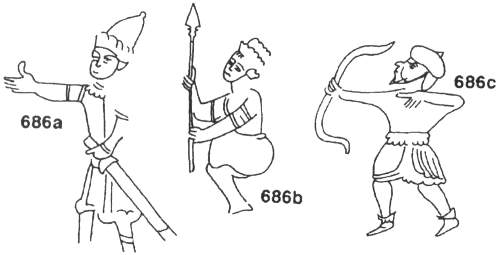 686A-C Painted ivory box, Sicily, 12th century
(Cappella Palatina Treasury, Palermo, Italy)
This second painted box shows warriors or huntsmen, one of whom (A) has a long, straight sword, the almost semicircular quillons or guard of which recalls earlier Maghribi as well as 13th and 14th century Andalusian weapons. A broad-bladed spear (B) and a recurved bow with, perhaps, angled ears (C) can also be seen.

---

Other Illustrations from Muslim Influenced, Norman and Lombard Southern Italy and Sicily
Other 12th Century Illustrations of Costume and Soldiers
Italian Illustrations of Costume and Soldiers