Prime Student 6-month Trial
The Betrayal, Mural in Agios Georgios, Artos, Crete, c.1401AD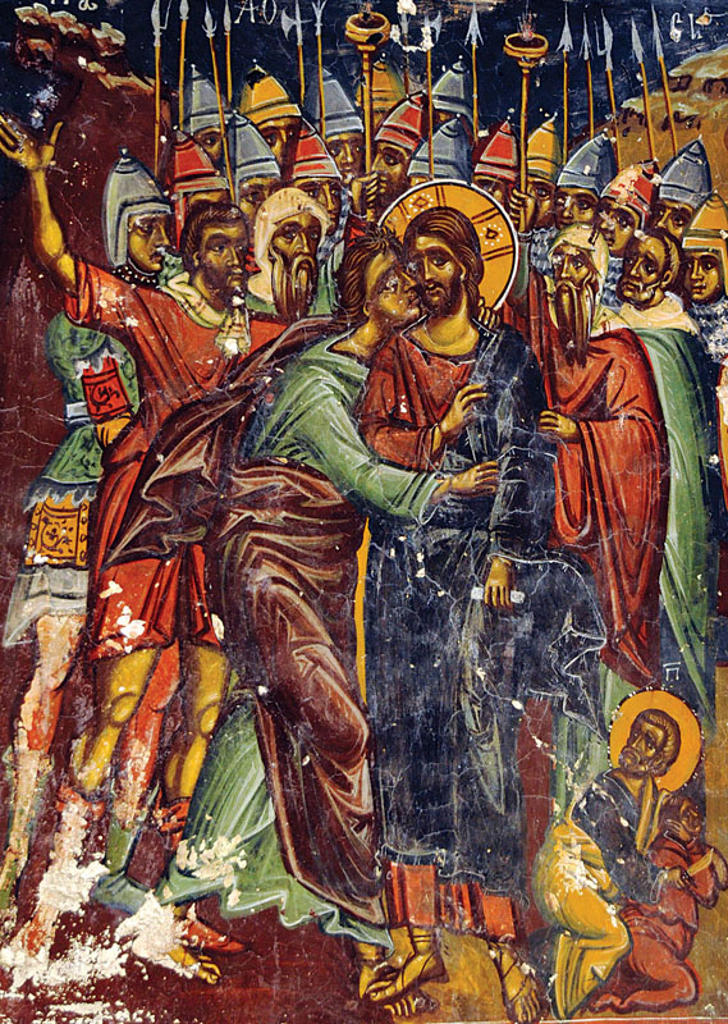 Picture source: orthodoxcrete.com

St. George is a church at the Artos village which lies in ruins, in the Roustika area. Among the ruins of the village three churches are found: Agios Georgios, Christos' and Panagia's (Virgin Mary). The church of Agios Georgios is found south of the other churches of Artos and according to the dedicatory inscription found in the sanctuary, it was built and painted around 1401. It is a single-nave church, covered with a pointed barrel vault. Two transverse arches with corbels support the pointed vault. The interior of the monument was decorated with wall-paintings, 25 of which are preserved in a relatively good condition despite the signs of wear. As with the iconographic program of the church of Panagia at Roustika, the narration of the Passion of Christ is emphasized. Moreover the theme of the damned is depicted.
digitalcrete



---


Referenced on p.93, Raffaele d'Amato The Betrayal: Military Iconography and Archaeology In The Byzantine Paintings Of The 11th-15th C. AD Representing The Arrest Of Our Lord
In the Chapel of Saint George in Artos, Crete, the Rethymnon district, the tall soldiers wear Western armours, conical helmets painted in blue, red and yellow and a great quantity of spears.76 Were the Venetian colonial infantrymen the model for such a painting?

---

Compare the soldiers to A Naval Battle by Spinello Aretino, Palazzo Pubblico in Siena, Italy, 1406-7
Helmets with nob and rosette on top in a Georgian Illumination from a Psalter, 13-15th centuries
See also Venetian, Cretan, Byzantine, Mamluk, Negro & Ottoman Soldiers on 'The Crucifixion', by Andreas Pavias, Crete, second half of the 15th century
Illustrations of Byzantine Costume and Soldiers