Amazon Prime Video Channels Free Trial: Sundance Now
Must-watch dramas, comedies and series
Jan Zizka leading his troops, Göttingen Codex, Hussite, late 15th century Bohemia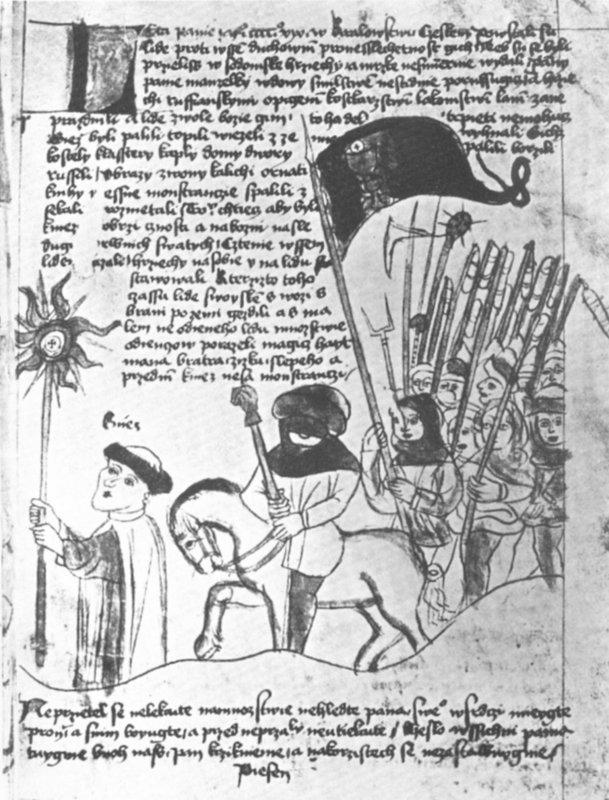 Image source: myarmoury





---


Extracts from Armies of the Middle Ages, Volume 2 by Ian Heath:
The term 'Utraquist' derived from one of the Hussites' principal religious demands, which was that laymen as well as priests should receive communion under both kinds (sub utraque specie), ie, should partake of the wine as well as the bread in Holy Communion hence their adoption of the chalice as the symbol of their movement. Many of the Hussite movement's early war-leaders were priests who, being men of the cloth rather than men of the sword, apparently based their military advice and teaching on the works of classical Roman authors. One modern authority has even attributed Jan Zizka's battlefield tactics to his familiarity with Vegetius' 'Epitome rei militaris'. Zizka's successor Prokop the Bald was himself a former priest.

The chalice (kalich) was the symbol of the Hussite movement and it subsequently appeared on the majority of their flags, with or without the wafer.

---

See also Jan Zizka leading his troops, Jena Codex, Hussite, early 16th century Bohemia
An Utraquist Priest in Armies of the Middle Ages, Volume 2 by Ian Heath, based on an illumination of Jan Zizka leading his troops
Other 15th Century Illustrations Costume & Soldiers