Bezeklik (Bšzšklik), (near Turfan), Tarim Basin
Uighurian Prince from Temple 19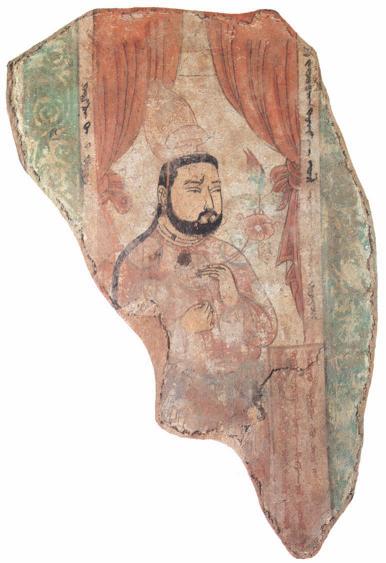 A larger image of this Uighurian Prince, Temple 19, Bezeklik (Bšzšklik), (near Turfan), Tarim Basin.
110 Uighurian Prince
Bezeklik, Temple 19, 9th century
Wall painting, 57.0 x 37.5cm
MIK III 8381

This picture of a prince was part of the painting on the pedestal of the cult image, which had, according to GrŁnwedel (1912, p. 271), the sermon of Benares depicted on its front side.
The prince stands before a door or window opening, between red curtains which have been tied back on either side. He wears along, belted robe; his head is crowned with a high tiara fastened under the chin with a red band. Unlike the princes of No. 108 he has a thick beard. Von Gabain's research indicates that young men generally went clean-shaven; only on attaining frill manhood did they wear a thin mustache, slightly drooping at the sides of the mouth (Gabain 1973b, p. 117). A beard, though less common, could also be worn, as this portrait shows, framing the checks rather than covering them completely. Prince Alp Arslan ("brave lion"), whose name and title can be read on the cartouche located below the elbow, holds the stem of a flower in his hands, unlike the figures of Nos. 108 and 109; if von Gabain's hypothesis is correct, all those represented with flowers were deceased at the time.

REFERENCES
Le Coq 1922-26, III, pl. 18, pp. 46f. Bussagli 1963, pp. 101, 106 (ill.). Indische Kunst 1971. 1976, no. 555. Rowland 1974, pp. 189f, 195 (ill.).

Source: Along the Ancient Silk Routes. Central Asian Art from the West Berlin State Museums (New York: Metropolitan Museum of Art, 1982), no. 110, p. 172.


Previous: Uighurian Princes from Temple 9, Bezeklik Next; Clay Figurines of Cavalrymen, Astana, Central Asia, 7th-10th Centuries
Tarim Basin Frescos


---