Menologion of Basil II, Byzantine, c.1000AD, Vaticano Griego 1613
Detail from page 62 - Martyrdom of Irais of Alexandria.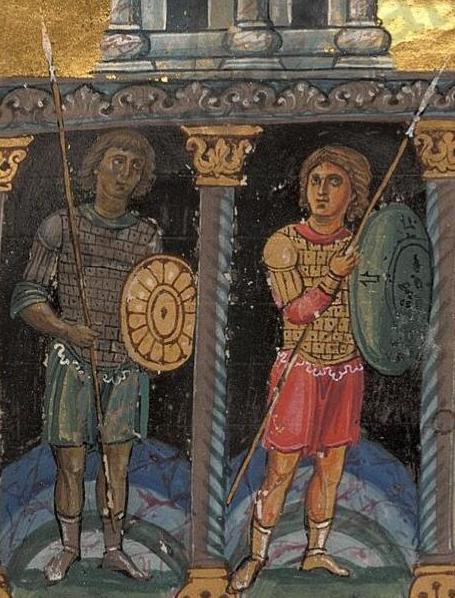 The full image of the Martyrdom of Irais of Alexandria, Menologion of Basil II, Byzantine, c.1000AD. p.62, Vaticano Griego 1613
Title: Menologium Basilii II
Date: late 10th century
Shelfmark: Vat.gr.1613
Biblioteca Apostolica Vaticana



---


Referenced on p.21, Byzantine Imperial Guardsmen 925-1025: The Tághmata and Imperial Guard by Timothy Dawson
Warrior of the Méghali Etaireía (Great Etaireía) of the Imperial Guard, recruited from Macedonians and other Christian subjects from the heartlands of the empire; and (right) a 'marine' soldier of the Vasilikodhrómonion. Their corselets are silvered and gilded, with white kremasmata on the lower border; the boots are in silver and gold with white dots. Under their armour they wear green and red tunics, one with gold embroidery. The artist has represented both (left) a gilded bronze shield, and the leather shield (dorka) mentioned in De Ceremoniis for the naval troops. The spears are painted in brown and green. (Menologion of Basil II, folio 62 detail, Biblioteca Apostolica Vaticana, Rome)



---


Referenced in not 298 for: Lombard infantryman or Pelthastis of Thema of Laghouvardhìa by Dr. Raffaele D'Amato
... it is interesting to mention that in the Menologion of Basil II an armoured warrior, even if bare-headed, is armed in an almost identical way ; the κλιβανιον is identical, as well the maphòrion around the neck. Only, the klibanion is worn over a zoupa, showing the cymation and the shoulder protection pieces. The shield of this warrior seems be a leather shield, painted green, of the type (δορκα) used by the fighting sailors called Phampili (De Cer, II, 579).


Previous: p.49 Next: Martyrdom of Dorotheus of Tyre
Back to the Menologion of Basil II, Byzantine, c.1000AD, Vaticano Griego 1613


---