Amazon Baby Wishlist Registration
Wooden door panel, 9th century AD, Coptic, in situ, Church of Abū Sarga, Cairo.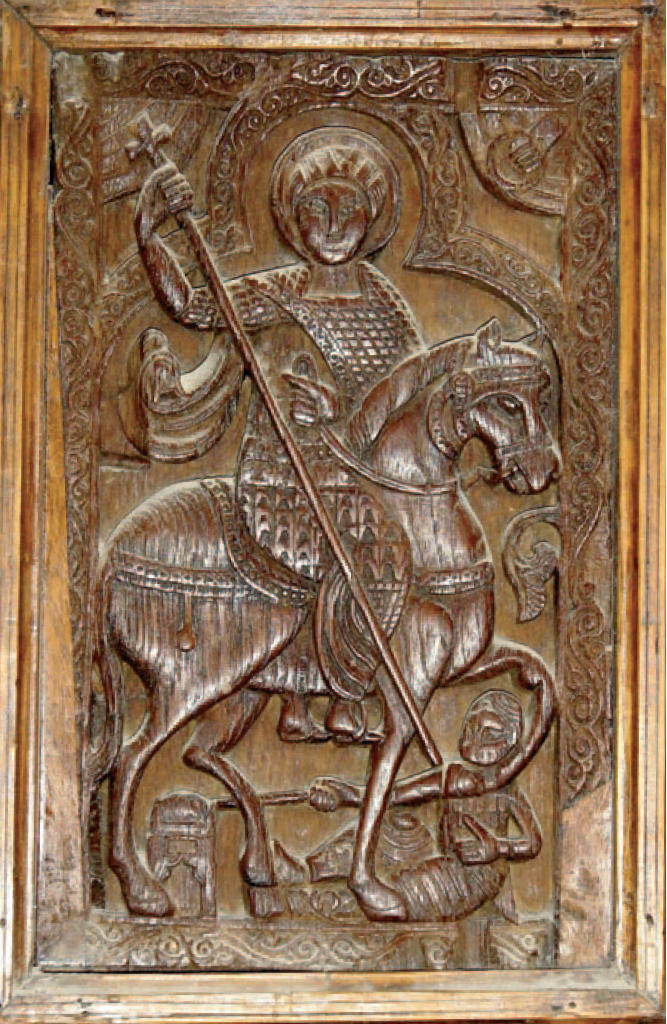 [This] forms part of a set of five such panels in the Church of SS Sergius and Bacchus (Abu Sarga) in Old Cairo, depicting three equestrian saints and two scenes from the New Testament. The similarity of this panel's iconography and the painting in the Church of St Antony enables us to identify the equestrian saint of Abu Sarga as St George. Both images show the saint aiming his spear at a man crouched on the ground. In case of the painting an added inscription identifies the crouching figure as Euchius, the soldier who, according to tradition, was sent by the Roman Emperor Diocletian to destroy the sanctuary of St George at Lydda. This sanctuary is represented as a small building on the right. Though defeated by George, the soldier is trying to reach the building with a stick, a symbolic attempt to destroy it. Although Hunt deciphers this as an iconography of submission, we would consider it rather as common imagery used for equestrian saints defeating enemies. In our opinion, it exemplifies what may happen to those who offend Christianity.
Source: Plate 3, Guarding the Entrances: Equestrian Saints in Egypt and North Mesopotamia by Bas Sneldersand Adeline Jeudy



---


Referenced as figure 142 in The military technology of classical Islam by D Nicolle
142. Wooden door panel, 9th century AD, Coptic, in situ, Church of Abū Sarga, Cairo (But).
pp.174-175: Although lamellar was clearly known in central and western Islam, it does not seem to have been widely adopted in these areas. Here European and Muslim warriors could easily be mistaken for one another, even in the 13th century.42 Nevertheless, the lamellar jawshan had been growing in popularity in Syria and Egypt for at least a century (see Terminology) and even reached al Andalus (Figs. 142, 145, 175, 177B-D, 178, 180, 267, 300, 548, 580C-D, 581 and 647).

145. Manuscript from Fayyūm, 'St. Theodore', 10th century AD, Coptic, Pierpont Morgan Lib. Ms. 613, f. 1v, New York (Ler C).
175. Inlaid metal bowl, 13th century AD, Mamlūk, Staatliche Museen Dahlem, West Berlin (Pope).
177A to 177G. Inlaid bronze bowl, late 13th or early 14th centuries AD, Mamlūk, Victoria and Albert Museum no.740.1898, London.
178A and 178B. Inlaid metal basin, Baptistère de St. Louis. c. 1300 AD, Mamlūk, Louvre, Paris (Ric B).178
267A to 267C. Ivory book-cover, A - 'Goliath,' B - 'Pride,' C - 'fortitude,' Queen. Melisande's Psalter, early 12th century AD, Crusader States, British Museum (Elg).
300. Inlaid metal candlestick-base, mid-13th century AD, Ayyūbid Jazīrah, Coll. of Dr. P. Costa (NC).
548. Fresco, James of Aragon enters Valencia, Muslim Garrison, late 13th century AD, Spanish, in situ, Castel d'Alcanyis.
580A to 580D. Stained glass windows from St. Denis, now lost, A - 'Capture of Nicea,' B - 'Capture of Jerusalem,' C - 'Egyptians flee into Ascalon,' D - 'Battle of Dorylaeum,' E - 'Defeat of Karbugha,' The first Crusade. 12th century AD, French (ex-Montfaucon Coll. of Engravings, Bib. Nat., Paris).
581. Stained glass windows, 'Moors ' The Legend of Roland and Oliver, 12th century AD, French, in situ, Cathedral, Chartres.
647. Metal pen-case by Ahmad al Dhakī (?), 1304 AD, Mamluk Syrian, Louvre, Paris.


Another Wooden door panel, 9th century AD, Coptic, in situ, Church of Abū Sarga, Cairo.


---

See also St. Theodore, Coptic, Fayum, Egypt, Morgan MS. M.0613, after Dec. 31, 867AD
Other Illustrations of Costume and Soldiers from Coptic sources
9th Century Illustrations of Costume & Soldiers