Amazon Music Unlimited
A 9th-10th Century Persian Jug
Saffarid or Samanid Period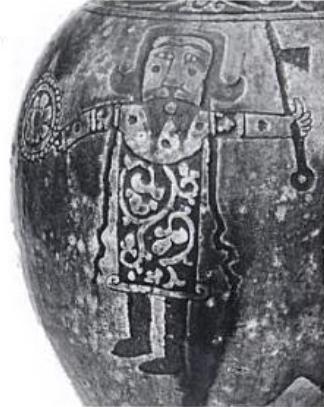 Gabri-ware jug showing a foot soldier with a war-axe, Iranian 9th-10th centuries. (Louvre, inv. 7242, Paris. Photo R.M.N.)
Source: p.10, MAA - 320 - Armies of the Caliphates 862-1098 by David Nicolle

---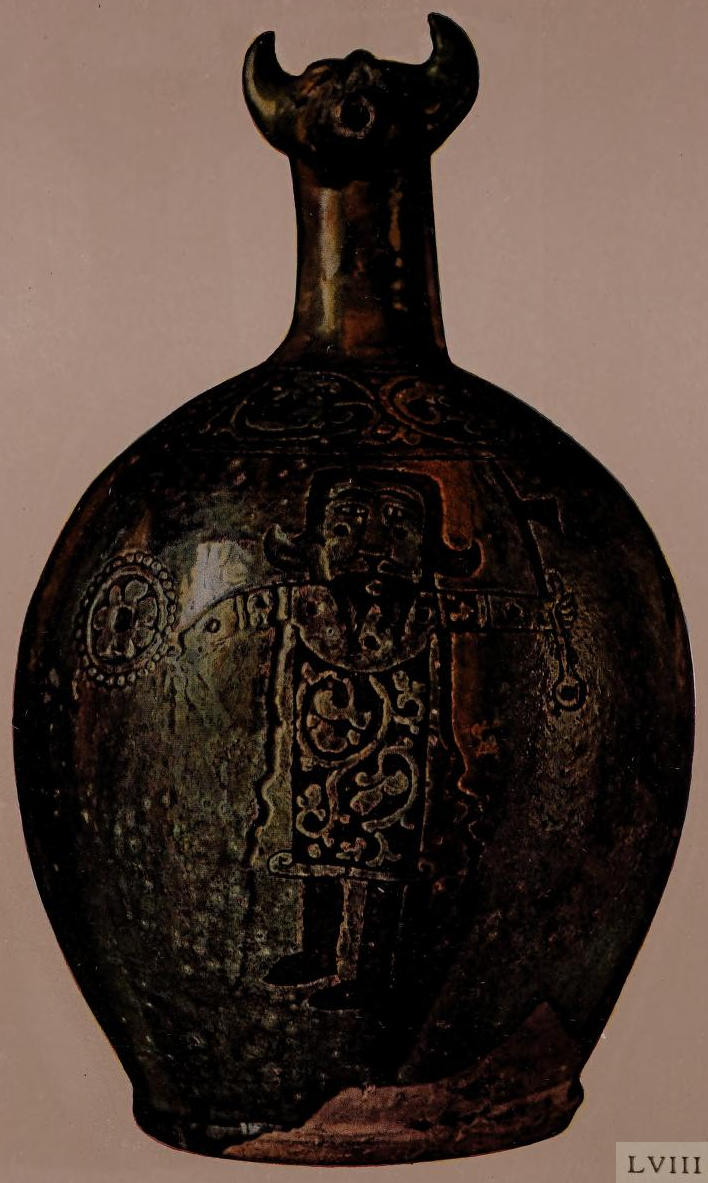 M. Pézard, La Céramique Archäique de l'Islam, (Paris 1920, 2 vols.). Plate LVIII
pp. 98-99 LE PERSONNAGE HUMAIN. — Ce motif, que nous n'avons rencontré qu'une seule fois, jusqu'à ce jour, dans le répertoire de la céramique sassanide de la seconde période, semble rare aussi dans la céramique de l'école d'Hamadan ; il apparaît sur un pot du Musée du Louvre (pl. LVIII, LIX) dont le col est surmonté cl'une tête de taureau formant déversoir ; en sens inverse un autre petit goulot se trouve à la base de l'anse.
Le personnage, le visage tatoué de deux points et orné d'une barbe à deux pointes, présente la chevelure caractéristique de la Perse avec ses deux grosses touffes encadrant le visage ; il porte de plus les longues tresses si fréquentes dans tout le répertoire figuré de la céramique persane à partir des invasions mongoles, mais cet emprunt fait aux modes chinoises était beaucoup plus ancien ; en fait, on le retrouve dès l'époque sassanide 1.
Le costume de ce guerrier semble constitué, autant que la stylisation permet de s'en assurer, par une tunique décorée de rinceaux et descendant un peu plus bas que les genoux ; une sorte de court mantelet arrondi sur le devant paraît couvrir le haut du buste 2; enfin le personnage est peut-être botté 3. Ses armes sont constituées par un petit bouclier rond décoré d'une rosace, bouclier employé déjà par les Sassanides 4, et par une hache dont le manche est terminé en boule perforée ou par un anneau 5.

1. Cf. Smirnoff, op. cit., pl. 35 , fig. 64 ; le roi sassanide figuré sur cette coupe a le visage encadré de grosses touffes de cheveux et de longues tresses retombent sur ses épaules.
2. Cf. mantelet de forme analogue porté par un roi sassanide figuré sur un plateau d'argent de l'Ermitage (Smirnoff, op. cit., pl. 34 , fig. 63 ). — Cf. sur le vase sassanide de notre planche VI, figures 2-3, l'espèce de collerette du roi n'est sans doute qu'une schématisation de ce mantelet.
3. Ibid., pl. 57, fig. 66, personnage botté sur une coupe sassanide du British Muséum provenant du Mazandéran.
4. Cf. Les Arts, décembre 1910, p. 2 ; plateau d'argent de l'Ermitage avec cavaliers sassanides entourant une forteresse ; l'un des boucliers est orné d'un fleuron.

THE HUMAN CHARACTER. - This motif, which we have encountered only once, so far, in the repertoire of Sassanid ceramics of the second period, also seems rare in the ceramics of the Hamadan school; it appears on a pot in the Louvre Museum (pl. LVIII, LIX), the neck of which is surmounted by a bull's head forming a spillway; in the opposite direction another small bottleneck is at the base of the handle.
The figure, the face tattooed with two dots and adorned with a double-pointed beard, presents the characteristic hair of Persia with its two large tufts framing the face; he wears moreover the long braids so frequent in all the figurative repertoire of Persian ceramics from the Mongol invasions, but this borrowing from Chinese fashions was much older; in fact, it can be found as early as the Sassanid period 1.
The costume of this warrior seems to consist, as far as the stylization can confirm, of a tunic decorated with foliage and descending a little lower than the knees; a sort of short, rounded mantlet on the front appears to cover the top of the bust 2; finally the character may be in boots 3. His weapons consist of a small round shield decorated with a rosette, a shield already used by the Sassanids 4, and an axe whose handle ends in a perforated ball or a ring 5.



---


Referenced as figure 344 in The military technology of classical Islam by D Nicolle
344. Ceramic bottle, 9th-10th centuries AD, north Iranian, Louvre, Paris (Paz).

---

See also 9th-10th centuries, Saffarid-Samanid period, bowls portraying Persian armoured warriors, Nishapur, Khurasan
A 9th-10th Century Persian Wall Painting, Saffarid or Samanid Period, from the palace of Sabzpusan (Sabz Pushan "green mound" in Persian) at Nishapur
Persian Illustrations of Costume & Soldiers
Other 9th Century Illustrations of Costume & Soldiers