Amazon FreeTime Unlimited Free Trial


An Illustration from the Joshua Roll
The Scouts Report.
Joshua Sends a Small Force to Attack Ai.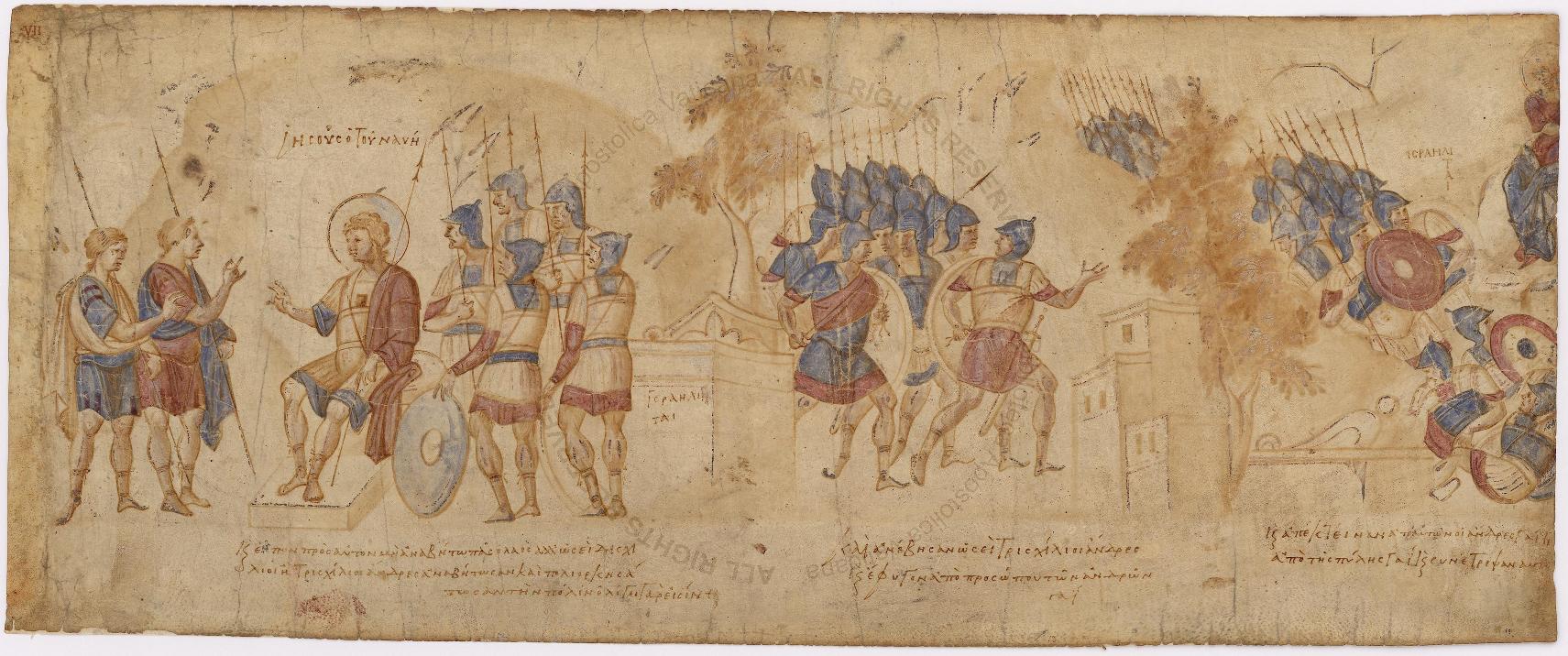 A larger image of Joshua Roll 07r - The Scouts Report. Joshua Sends a Small Force to Attack Ai, Joshua Roll, Va. Pal. Graec. 431.
Josua-Rolle, Codex Vaticanus Pal. Graec. 431. Byzantine, 10th century. Biblioteca Apostolica, Vatican.

3 Then they returned to Joshua and said to him, "Not all the people need go up; about two or three thousand men should go up and attack Ai. Since they are so few, do not make the whole people toil up there." 4 So about three thousand of the people went up there; and they fled before the men of Ai. 5 The men of Ai killed about thirty-six of them, chasing them from outside the gate as far as Shebarim and killing them on the slope. The hearts of the people melted and turned to water.
(Joshua 7:3-5)



---


Referenced on p30, MAA 89 Byzantine Armies 886-1118 by Ian Heath & Angus McBride
Another fine study of skutatoi equipment from the Joshua Roll, showing corselets with pteruges, breast-bands and shoulder-pieces. The neck-guards of their helmets appear to be flexible so are probably leather. Uniforms in this source are chiefly red, sometimes blue. (Biblioteca Apostolica Vaticana, Rome).


Previous: Joshua Roll 06r - Jericho Mourns. Joshua Sends Scouts to Ai Next: Joshua Roll 08r - The Israelites are Defeated at Ai. Joshua and the Elders Prostrate before the LORD
Back to Illustrations of Byzantine Costume & Soldiers in the Joshua Roll

---