Prime Student 6-month Trial
Kizil Caves, near Kucha, Tarim Basin
Cave of the Sixteen Sword Bearers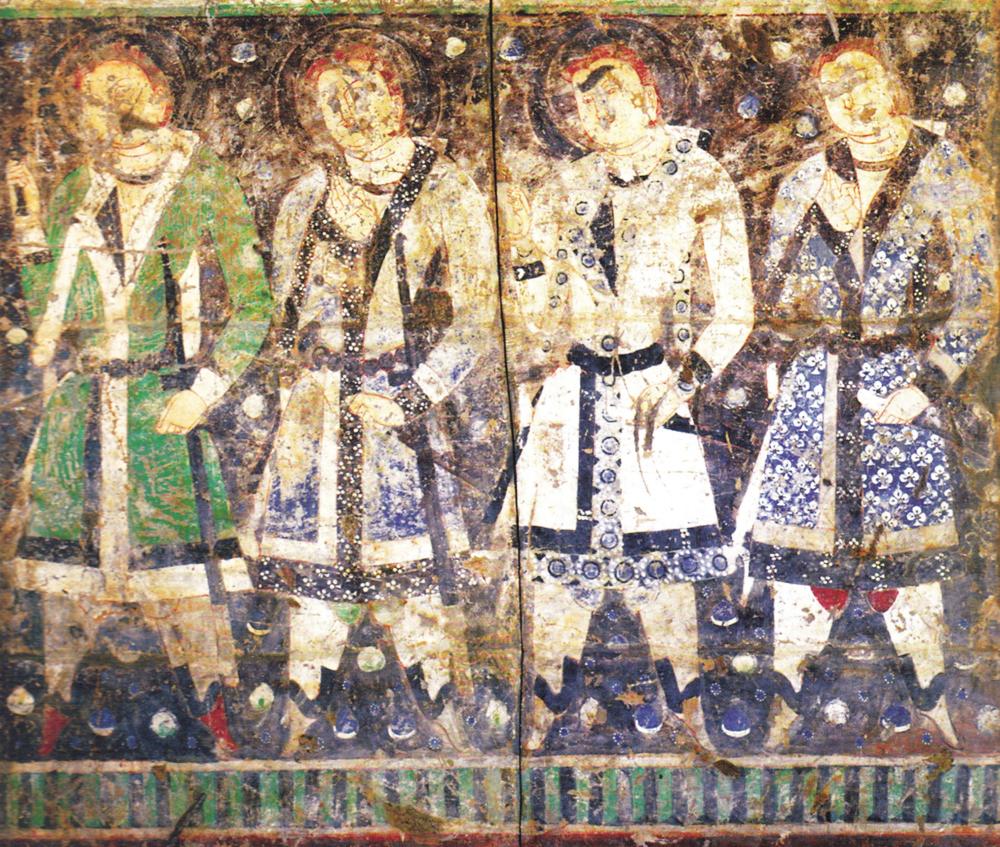 A large image of Cave of the Sixteen Sword Bearers, Kizil Caves, near Kucha, Tarim Basin.
Carbon 14 date: 432-538 AD
A sketch of four other sword bearers & a servant of the Sixteen Sword Bearers
Sketches of three sword bearers & a servant of the Sixteen Sword Bearers
There are similar figures from Kumtura in Auf Hellas Spuren in Ostturkistan : vol.1 / Page 156 & Von Land und Leuten in Ostturkistan : vol.1 / Page 225 and a female at Kumtura



---


Referenced as Illustration 179, p190 in Tamara Talbot Rice, Ancient Arts of Central Asia, 1965
179 Four donors from Kizil, dating from the seventh century. It is interesting to note the similarity in style of the clothes worn in western Turkestan (Ill. 83).
pp. 190-191
The Kizil paintings are the most important of this group, and this not so much because of any marked superiority in quality or individuality of style, but rather because more of them survive, with the result that it is they which furnish us with a complete time sequence for dating purposes. Thus Hackin assigned the earliest Kizil paintings to the period AD 450 to 650, with the second phase ending in about 750. As in Fundukistan so at Kizil the influence of Soghdia and Bactria is reflected in the cut of the clothes, more particularly in those worn by donors (Ill. 179), whose tunics often have the characteristically Soghdian single revere. Many of the ornaments, furnishing and armour which appear in the paintings, no less than the proportions of the figures, also recall Central Asian prototypes yet, as in the rest of the Taklamakan area, the main influence is still Hellenistic, and this is especially the case in the pictures of Buddha. On the other hand, the women are closer in style to Indian than to Iranian or Greek conceptions whilst the men are closer to Sassanian models. Indeed, even during the last phase, though artists were using highlights of the Chinese type, many of the men still retained a markedly Persian appearance. At Kizil, as in the rest of the medieval world, the more important personages are larger in size than the others. Most of the paintings are of a narrative character. Representations of hell were especially numerous in the seventh century when the artists attempted to model limbs by means of shading whilst outlining the contours of the bodies with a dark line.



---


Referenced in Elsie Holmes Peck, "The Representation of Costumes in the Reliefs of Taq-i-Bustan." Artibus Asiae, Vol. 31, No. 2/3, 1969, Fig. 12.
Even farther east, in Central Asia, the leg-covering is worn by donors in wall paintings of the seventh century A.D. at Ming Oī, Qyzil (Fig. 12). In the cave of the Sixteen Sword-bearers, rows of donors wear leggings under their caftans and over full trousers.


Previous: Kizil cave donor figures Next; A sketch of four other sword bearers & a servant of the Sixteen Sword Bearers
Back to Tarim Basin Frescos


---