Join Prime Video Channels Free Trial
Bowl with a Warrior with Sword and Shield, 10th Century, Nishapur, Iran
Detroit Institute of Art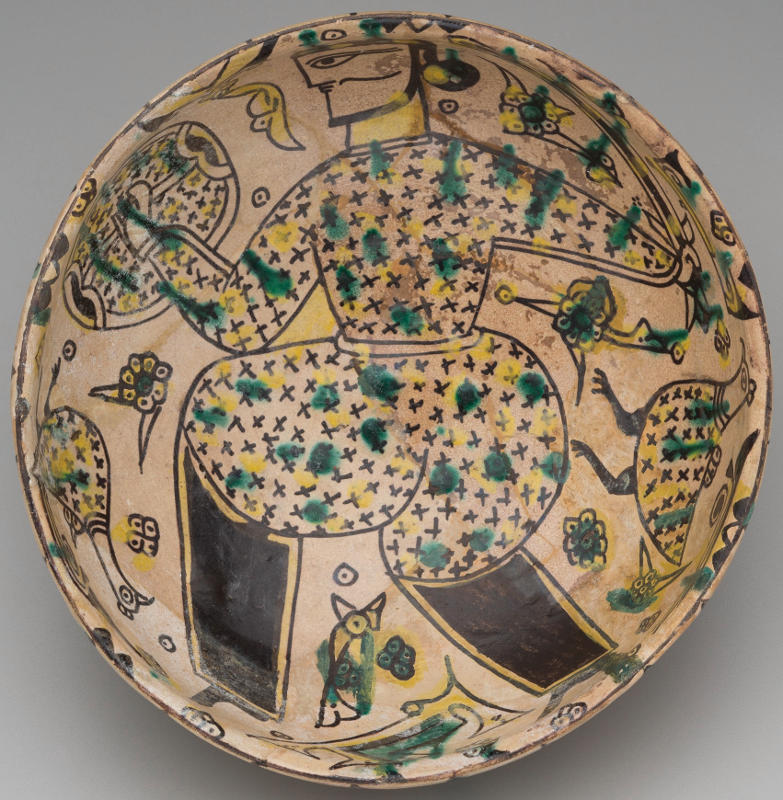 A larger image of a this Bowl with a Warrior with Sword and Shield, 10th Century, Nishapur, Iran.
Artist: Islamic, Iranian
Title: Bowl inscribed "Blessing"
Date: 10th Century
Medium: Underglaze-painted earthenware with white slip
Dimensions: Object: 3 3/8 x 8 7/16 in. diam. ( 8.56 x 21.44 cm)
Mounted: 8 1/4 x 8 7/16 x 6 5/8 in. ( 20.96 x 21.44 x 16.81 cm)
Mount footprint: 5 1/4 x 5 3/8 in. ( 13.34 x 13.67 cm)
Credit Line: Founders Society Purchase, William H. Murphy Fund and Dr. and Mrs. Arthur R. Bloom Fund
Accession Number: 1990.297
Inscription: "Baraka" (blessing).
PROVENANCE: Nishapur, north-east Iran
Detroit Institute of Art


Previous: Bowl with a warrior, 10th century, Nishapur, Eastern Persia.
Next: Bowl with Warrior, Nishapur or Samarkand, 10th Century. Anavian Gallery, 5406.


---

Back to Bowls with figures from Nishapur, Kurasan, Iran, 9th-10th centuries, Saffarid-Samanid period
Other 10th Century Illustrations of Costume & Soldiers