Join Prime Video Channels Free Trial
Bowl with a Man Holding a Sword and Shield, 10th Century, Nishapur, Iran
Metropolitan Museum Of Art, New York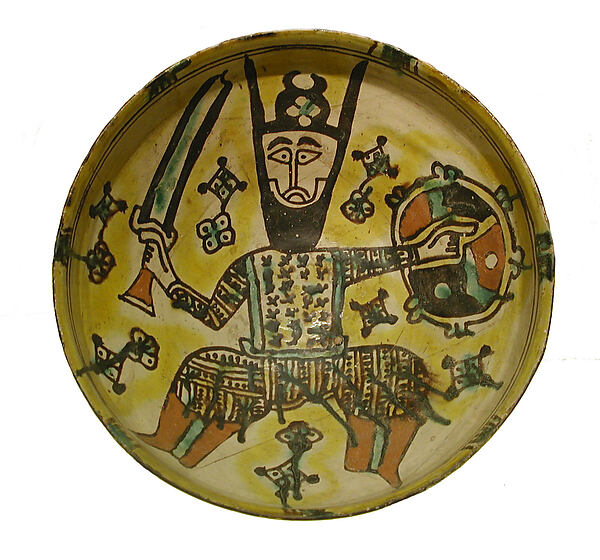 A larger image of a bowl with a Man Holding a Sword and Shield, 10th Century, Nishapur, Iran. Metropolitan Museum Of Art, New York.
Bowl with a Man Holding a Sword and Shield
Date: 10th century
Origin: Nishapur, Iran
Medium: Earthenware; white slip with black slip and polychrome pigments under transparent colourless glaze
Dimensions: H. 11.4 cm Diam. 26.7 cm
Accession Number: 66.176
Metropolitan Museum of Art, New York



---


Referenced as figure 354 in The military technology of classical Islam by D Nicolle
354. Ceramic bowl, 10th century AD, Kurāsānī, Metropolitan Museum no. 66.176, New York.
p174 Lamellar armour may also have been used in Byzantium in the pre-Islamic era39 (Figs. 90, 91 and 556) but its more widespread adoption after the 7th century clearly reflected Muslim military pressure40 (Figs. 212, 220A, 314, 630 and 637). A smaller but equally common kabadion lamellar cuirass was seen in Byzantium from the 10th century41 (Figs. 227, 242, 249, 314, 414 and 608). This could reflect the changing fashions of eastern Islam, where the lamellar kamaband may have been developed in the 10th century, or it could have been the Byzantine original that stimulated the adoption of this latter Iranian form of armour (Figs. 209, 241, 292, 294, 306, 347, 354, 376, 377, 385, 390, 392, 422, 446, 447 and 641).

39. Haldon, "Some Aspects of Byzantine Military Technology from the 6th to the 10th centuries," p. 20.
40. Ibid., pp. 25-26,29 and 46.
41. Ibid., p 36.



---


Referenced as figure 554 in Arms & Armour of the Crusading Era, 1050-1350: Islam, Eastern Europe and Asia by David Nicolle
554 Painted bowl from Nīshāpūr or Transoxania, Sāmānid, 10th century
(Metropolitan Museum of Art, no.66.176, New York, United States)
The style of this pained bowl is slightly different from the preceding examples but the military equipment is the same. It includes another possibly crested helmet, a broadsword - and the sleeveless cuirass with another garment beneath. The surface decoration on arms and legs might indicate that this example is a full-length hauberk reaching below the knees. The most interesting feature, however, is the hand-held round shield. This moderately-sized protection seems to have decorations round its rim, perhaps tufts or tassels as later seen in the 12th-century Warqa wa Gulshāh manuscript (fig.558).



---


Referenced on p14, Armies of the Caliphates 862-1098 by David Nicolle A fully armoured soldier on a 10th century plate from Nishapur (Met. Museum of Art, inv. 66.176, New York).

Previous: Bowl with a Man Holding a Sword and Shield, 10th Century, Nishapur, Iran or Samarqand, Uzbekistan, Metropolitan Museum of Art, New York
Next: Bowl with warrior with sword, 10th Century, Nishapur, Iran, Museo Nazionale d'Arte Orientale, Rome, Italy


---

See also Bowl with a Man Holding a Sword and Shield, Accession Number: 40.170.23, 10th Century, Nishapur, Iran or Samarqand, Uzbekistan. Metropolitan Museum of Art, New York
Back to Bowls with figures from Nishapur, Kurasan, Iran, 9th-10th centuries, Saffarid-Samanid period
Other 10th Century Illustrations of Costume & Soldiers