Try Prime Discounted Monthly Offering
A Sasanian silver gilt plate with a gift of a ring
7th Century AD. Sackler Gallery S1987.113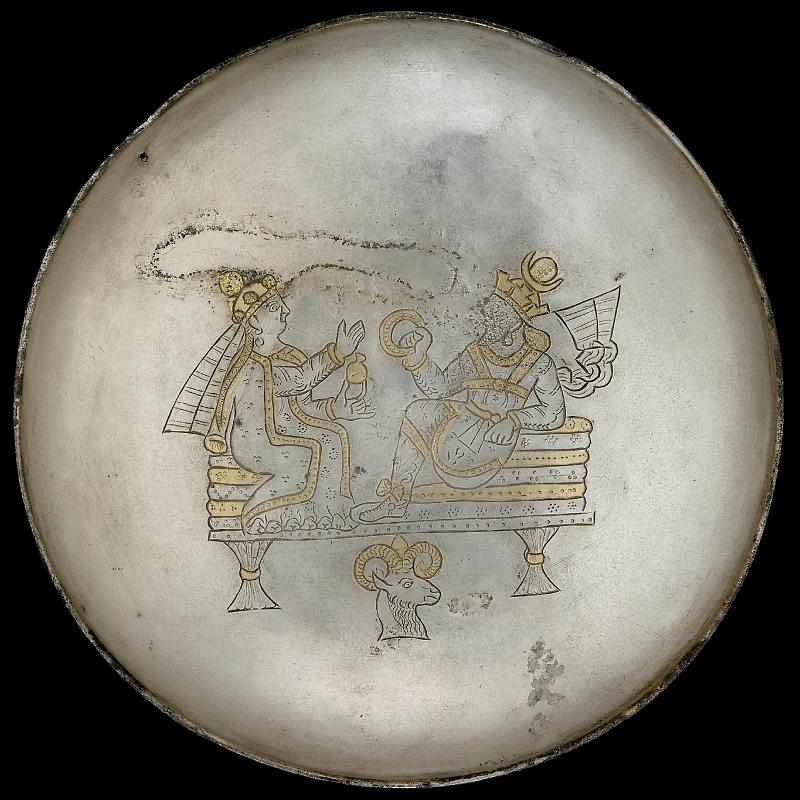 A larger image of this Sasanian silver gilt plate with a gift of a ring, 7th Century AD. Sackler Gallery S1987.113.
Type: Plate
Historical period: Sasanian period, 7th century
Medium: Silver and gilt
Dimensions: H x W x D: 4.9 x 19 x 19 cm (1 15/16 x 7 1/2 x 7 1/2 in)
Geography: Iran
Collection: Arthur M. Sackler Gallery
Accession Number: S1987.113
Label:
The decoration on this plate, a couple seated on a couch and grasping a wreath or diadem, is also found on Sasanian seal stones. The male figure wears a mural crown, indicating that this is a scene of a royal or princely banquet. Late in the Sasanian period (ca. 224–651), silver plates with interior decoration were fashioned for a noble clientele. Most depict subjects with religious meaning; this plate is therefore unusual in the repertory of late Sasanian silver plate.
Below the couch is the head of a ram in profile, facing right. In Zoroastrian writing the ram, or mouflon, is associated with the Iranian god Verethragna and with royal glory or fortune (xvarnah). The animal appears frequently in Sasanian art—on silver vessels, as a stucco pattern, on textiles, and on seal stones. Depicted as an isolated head, this animal image can be found on other examples of Sasanian and Central Asian silver. If intended to symbolize Verethragna and thus also valor, the animal head would then emphasize the heroic aspect of the royal banquet.

Source: Smithsonian Institution



---


Referenced in note 105 on pp.199-200, Moya Catherine Carey, Painting the Stars in a Century of Change: A Thirteenth-Century Copy of Al-Ṣūfī's Treatise on the Fixed Stars (British Library Or. 5323) (Thesis University of London, 2001).

This distinctive drapery style occurs throughout Sasanian art, in silver, of either royal or provincial manufacture, and monumental rock-reliefs.102 The third-century relief at Naqsh-e Rustam depicts the triumph of Shapur I (r.243-273AD) over the Roman emperor Valerian and Philip the Arab, and is executed in this style: rows of bellgathers ripple along the base of Shapur's tunic, and through his trailing cloak [PLATE 83]. Noticeably, this flamboyant drapery style is reserved for the Sasanian emperor: the robes of Valerian and Philip are delineated with plainer drapery-folds.103 The drapery style also occurs in Sasanian silver vessels, such as most "Royal Hunt" plates [PLATE 69], in which the king is depicted on horseback, hunting down lions, boars, stags, bears or mountain goats,104 bowls depicting royal banquet scenes,105 and footed ewers [PLATE 82B].

102 Harper categorises Sasanian silver as either "central Sasanian", officially controlled by the royal court, or "provincial", produced beyond the royal workshop, perhaps for governor-princes in outer provinces, or independent minor rulers beyond the Sasanian realm (Harper & Meyers 1981 p.1 24).
103 The same allocation is observed in another relief at Naqsh-e Rustam, of Hormuzd II (r.302-309AD) defeating the plainly-draped Karens (reproduced in Dutz & Matheson 1997 p.47), and the relief at Tang-e Chogan in Bishapur (also third century AD), commemorating the victory of Bahram II (r.276-293AD) over the Arab nomads (reproduced in Dutz & Matheson 1997 pp.62-63).
104 The bell-gathers assemble along the lower hem of the king's tunic, and at the streaming ends of his cummerbund and headscarf. Cf. also two silver-gilt plates from the third or early fourth century, reproduced in Harper & Meyers 1981 plates 8 and 10 (Tehran, Iran Bastan Museum Acc.1275; Baku, Museum of the History of Azerbaijan). Harper & Meyers 1981 is a full study of the "Royal Hunter" genre in Sasanian silver.
105 Cf. late Sasanian silver plates reproduced in Grabar 1967 plate 13; Gunther & Jett 1992 p.131 (Baltimore, Walters Art Gallery Acc.57.709; (Washington DC, Sackler Gallery S1987.113.) Iranian silver vessels depicting banquet scenes are usually attributed to the late Sasanian and early Islamic periods, see Gunther & Jett 1992 pp.131-132.

---

See also Sasanian, Kushano-Sasanian or Hephthalite Plate with a gift of a ring. British Museum 123093, 4th century AD
A Sasanian silver plate with a gift of a ring, 6th-7th Centuries AD, Walters Art Gallery 57.709
Back to Sasanian and Central Asian Plates