Try Amazon Prime 30-Day Free Trial
Gandharan Statuette of a warrior.
Peshawar Museum.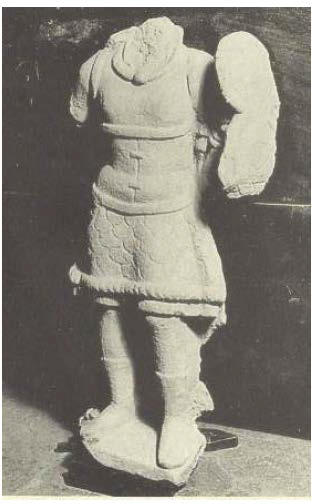 Fig. 27 Statuette of a warrior
A curious type of shield looking like the numeral 8 appears in a panel depicting a warrior wearing a double skirted cuirass (Fig. 27).
Source: "Weapons, Tools and Implements as depicted in Gandhara Art" by Toqeer Ahmad Warraich in Pakistan Heritage Volume 6 (2014)



---


Referenced as figure 73 in The military technology of classical Islam by D Nicolle
73. Statuette, 2nd-3rd centuries AD, Ghandaran, Peshawar Museum.

---

See also an Armoured Iranian(?) warrior in 'The Great Departure', 3rd to 5th centuries AD (?), post-Ghandaran, Lahore Museum.
Other Ancient Illustrations of Costume and Soldiers