Sakae or Sarmatian Belt Buckle (Left) of a Boar Hunt, Hermitage Museum, St. Petersburg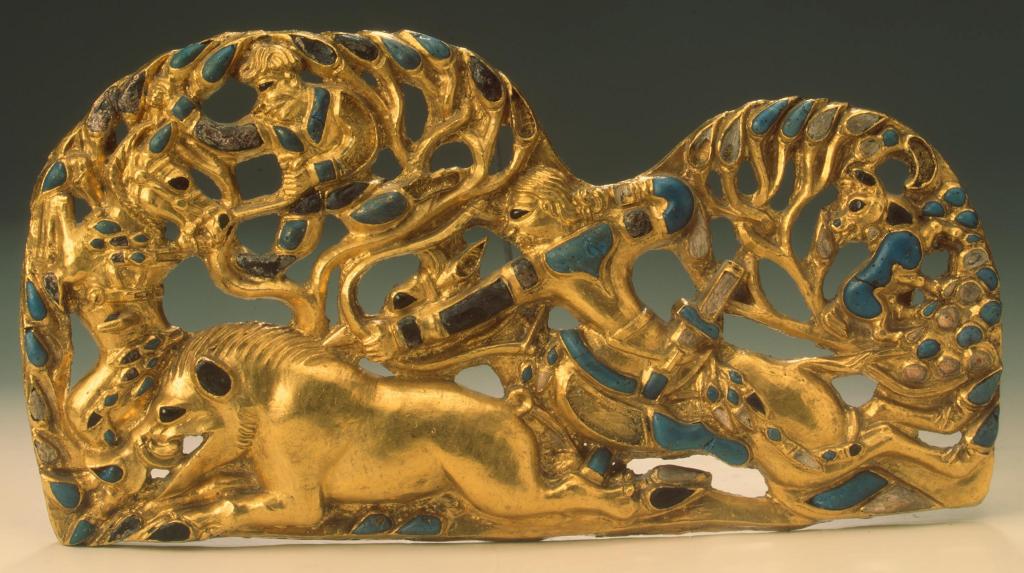 A larger image of the Sakae or Sarmatian Belt Buckle (Left) of a Boar Hunt, Hermitage Museum, St. Petersburg
Title: Belt Buckle (Left): Boar Hunt
Epoch. Period: Early Iron Age
Date: Sakae Culture. 5th - 4th century BC
Place of finding: Russia, Siberia
Material: gold, glass, coral and black stone
Technique: cast and chased
Dimensions: 19.2 x 10.2 cm
Acquisition date: Formerly in Peter the Great's Siberian collection
Inventory Number: Си.1727-1/70
Hermitage Museum, St. Petersburg



---


Referenced on p.7, The Sarmatians 600 BC-AD 450 by Richard Brzezinski (Author), Gerry Embleton (Illustrator)
Nomad horse-archer hunting wild boar, depicted on an enamelled gold belt fitting. He has a ponytail hairstyle, and a scabbard-slide is used to sling the sword. The object comes from the 'Siberian Collection' of Peter the Great, assembled in 1716 and now in the Hermitage, St Petersburg. The collection is said to have originated in Siberia, but many objects probably came from looted kurgans in Central Asia and the Volga and Black Sea regions.

---

Sakae or Sarmatian Belt Buckle (Right) of a Boar Hunt, Hermitage Museum, St. Petersburg
See also Detail of the rider who approaches the Great Goddess, Pazyryk Culture. 5th - 4th century BC
Back to Scythian, Saka and Sarmatian Illustrations of Costume and Soldiers