Amazon Prime Video Free Trial
Tryphon in Sarmatian cavalry armour and costume, Tanais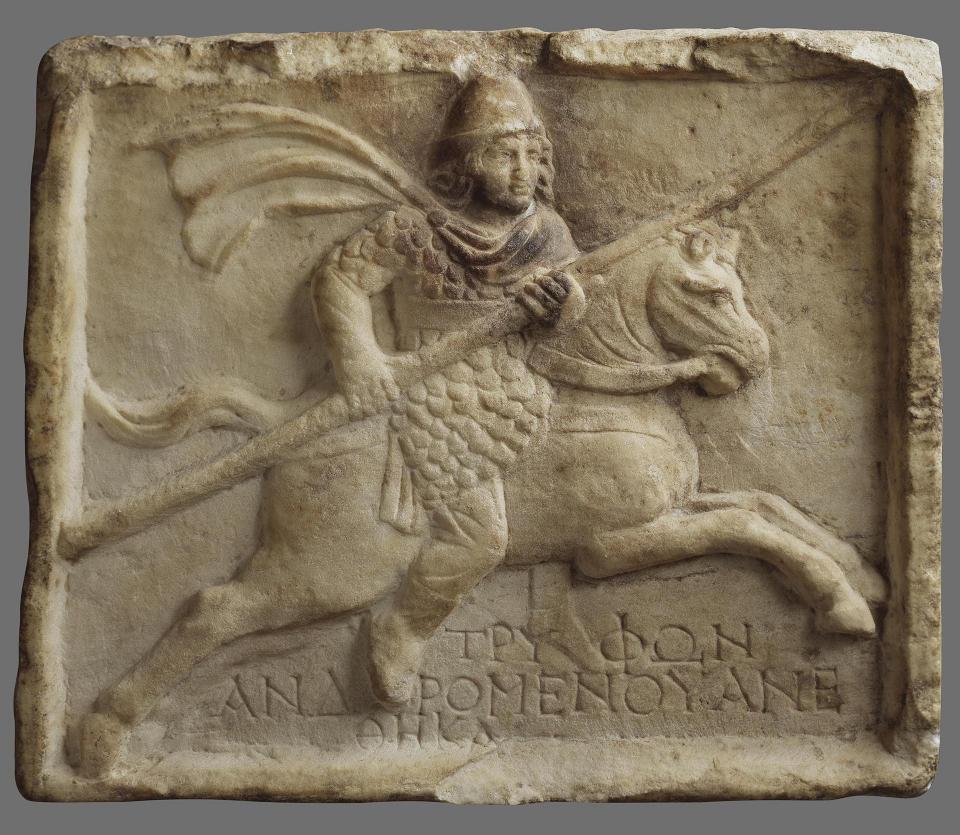 ΤΡΥΦΩΝ ΑΝΔΡΟΜΕΝΟΥΑΝΕ ΘΗΚΑ
Tryphon son of Andromenes
A larger image of Tryphon in Sarmatian cavalry armour and costume, Tanais
Title: Slab Depicting a Riding Warrior
Epoch. Period: Sarmatian Era
Date: Sarmato-Alanian Culture. 1st-2nd century
Archaeological site: Rostov Region, Tanais
Material: marble
Dimensions: 39 x 33.5 cm
Inventory Number: TH.-304
State Hermitage Museum, St. Petersburg. TH-305



---


Referenced on p.8, The Sarmatians 600 BC-AD 450 by Richard Brzezinski (Author), Gerry Embleton (Illustrator)
Lancer of the 3rd century AD, armed in Sarmatian manner, from the marble stele of Tryphon found in the ruins of the Bosporan centre of Tanais on the Don, which was then dominated by the Alans (Ammianus 'Tanaitae'). The clean-shaven, long-haired rider wears a rounded cap or helmet, without cheekpieces or neckguard. His scale corselet is secured by a broad belt, and worn over a long-sleeved undergarment and trousers. The rider's legs seem to curve under the belly of his relatively small horse. He holds his long lance with both hands. (After Rostovtev)



---





FIG. 218. Tanais. Votive Relief. 1/5. KTR. p. 14, f. 12 : ABC. Vol. I. p. 278, v. inf. p. 369.



Rather like a grave relief is Tryphon's dedication from Tanais (Fig. 2 18). The type recalls the coins of Cotys II (P1. VIII. 4), terra-cottas from Kerch7, and a clasp in the form of a horseman from Sympheropol8. From this latter site come reliefs of Tauri (?), one a trousered rider, early IVth century, the other with two fields, in one a horseman, in the other a spearman in a doublet with a small targe9.
Source: p.304, Scythians and Greeks : a survey of ancient history and archaeology on the north coast of the Euxine from the Danube to the Caucasus by Ellis H Minns.

---

See also a Taurian? Horseman on a Limestone Sepulchral Stele, Simferopol, Crimea, 2nd Century BC
Sarmatians in a painted tomb of the Crimean Bosporus, Crypt 1872
Illustrations of Scythian, Cimmerian and Sarmatian Costume and Soldiers from the Black Sea Region
Ancient Illustrations of Costume and Soldiers