Try Prime Discounted Monthly Offering
The "Biaggi de Blasys" Plate
A Sasanian King Hunting Lions
Sotheby's Lot 85, 2019.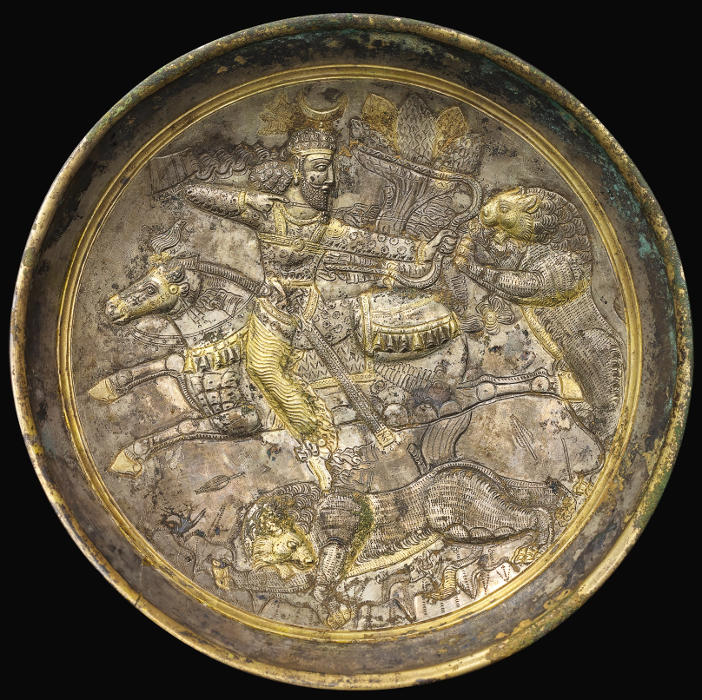 A larger image of the "Biaggi de Blasys Plate", A Sasanian King Hunting Lions
Description
A SASANIAN SILVER-GILT PLATE, CIRCA 4TH CENTURY A.D.
of shallow rounded form with low ring foot, the interior carved within a broad medallion in shallow relief and partially overlaid in high relief with a royal hunting scene, the king riding his steed at full gallop, turning backward, and preparing to unleash his arrow at a pursuing lion, another lion, probably wounded, sprawled below on a rocky outcrop, broken arrows and blades in the field, the king wearing a long-sleeved tunic with dotted rosettes, beaded chest halter with central boss, and crescentic crown, a sheathed sword at his side, his steed with cropped mane, bound and beribboned tail, fringed blanket, and quilted saddle cloth, a large tree towering in the background, engraved on the underside of the foot with a line of Middle Persian inscription, probably an indication of the weight.
Diameter 22.5 cm.; weight 622 g.
Provenance
Leo Biaggi de Blasys (1906-1979), Lugano, acquired in the 1950s/1960s
by descent to the present owner
Catalogue Note
Cf. P. O. Harper and P. Meyers, Silver Vessels of the Sasanian Period, vol. 1: Royal Imagery, 1981, pls. 10 and 14. Also see Sotheby's, New York, June 7th, 2007, no. 95.
For a similar tree on a silver plate with tiger hunt see C. Vesta Sarkhosh and S. Stewart, eds., The Sasanian Era, 2008, fig. 11.
A label inscribed "Herzfelder" is attached to the underside, probably in reference to Hubert Herzfelder (1911-1963), a friend of Leo Mildenberg's and fellow numismatist, collector, and dealer. Leo Biaggi de Blasys acquired the majority of his most important objects from Leo Mildenberg.
In an undated handwritten note, Leo Biaggi de Blasys discusses the present plate at length, comparing it with other known examples, as well as royal representation on Sasanian coins. His latest bibliographical reference dates to 1959.
This lot appears as no. 42 in a partial inventory of the Leo Biaggi de Blasys Collection, Lausanne, Switzerland, January 25th, 1982.
Source: Sothebys Lot 85, 2019.

---

See also 10. the Sari Plate, A Sasanian Noble Hunting Lions, from Iran, Tehran - Iran Bastan Museum 1275.
and 14. the Hormizd plate, A Sasanian King Hunting Lions, 5th-6th Century, The Cleveland Museum of Art 1962.150.
Back to Sasanian and Central Asian Plates