Audible Gift Memberships
Scythian gold appliqué with two archers, Kul Oba burial, Crimea, 4th century BC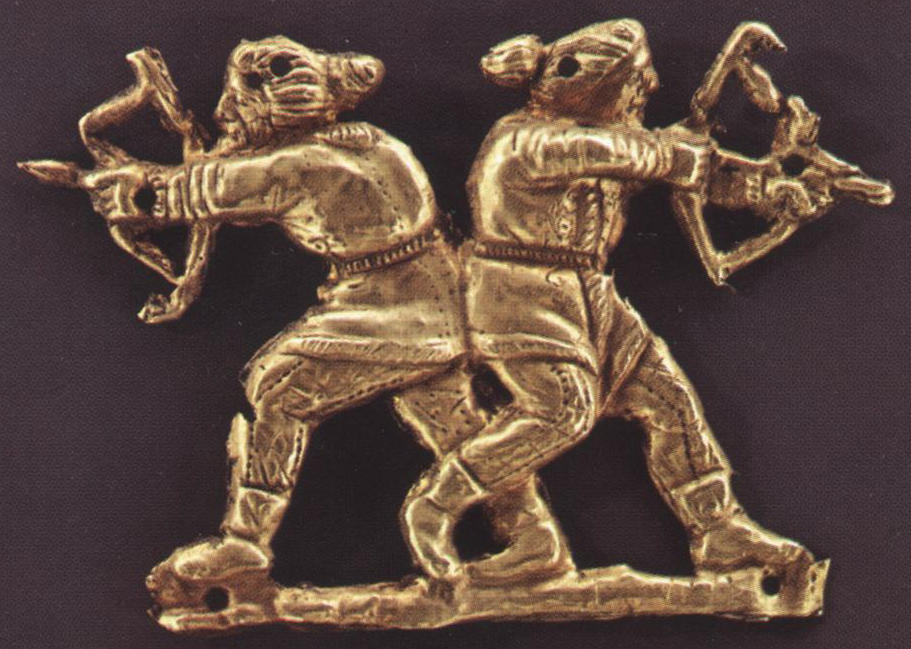 A larger image of this Scythian gold archers appliqué, Kul Oba burial, Crimea
The two archers differ from other representations of Scythians in that, although fighting, they do not wear the typical Scythian cap or helmet, and their hair is tied in a topknot, a coiffure described by Herodotus as typical of the Thracians.

Two archers drawing their bows, clothing ornament plaque. Gold, height 2.8 cm. (1⅛ in.).

4th century B.C. Crimea, near Kirch, Kul Oba kugan. Excavations, 1839. Hermitage КО 105

Artamonov, Splendor, pl. 224.
Source: p.63, Cat. no. 80, "From the Lands of Scythians: Ancient Treasures from the Museums of the U.S.S.R., 3000 B.C.–100 B.C.": The Metropolitan Museum of Art Bulletin, v. 32, no. 5 (1973–1974) Piotrovsky, Boris (1973–1974)



---


Referenced on p.29, Scythians 700-300 B.C. by E.V.Cernenko, A.McBride, M.V.Gorelik
A gold decorative plaque showing Scythian archers, from the 4th century Kul Oba burial. Note fur-trimmed jackets, decorated trouser, and short boots. The top-knot hairstyle (cf Plate B) is unusual in Scythian pictorial work. The short, sharply recurved bows are accentuated here.

Another matching Scythian gold appliqué with two archers
---

Back to Scythian, Saka and Sarmatian Illustrations of Costume and Soldiers