Amazon Kindle Unlimited Free Trial
A Scythian Gold Comb with Battle Scene from the Solokha Kurhan, Late 5th-early 4th century BC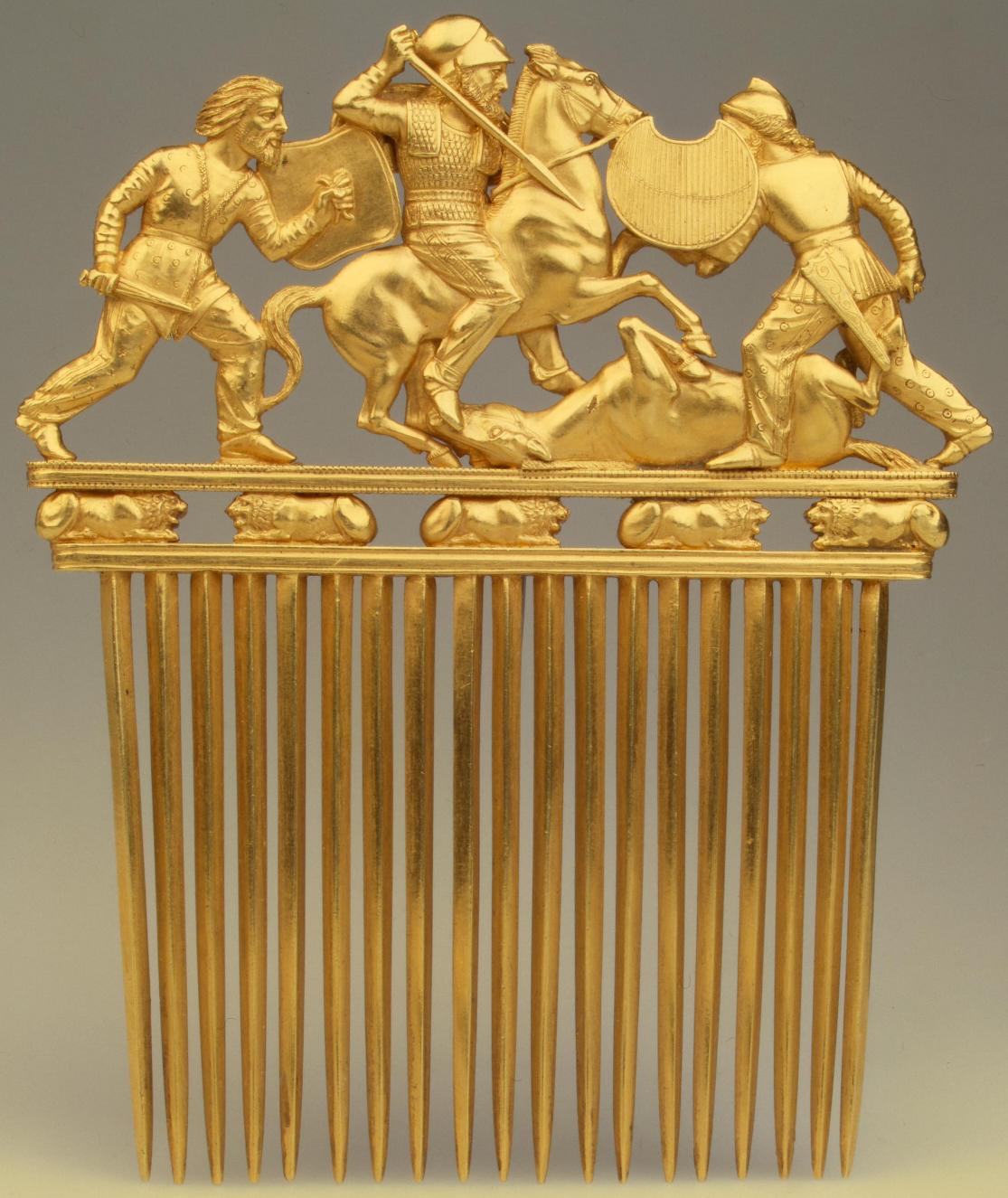 A larger image of the Scythian Gold Comb with Battle Scene from the Solokha Kurhan, Hermitage Museum, St. Petersburg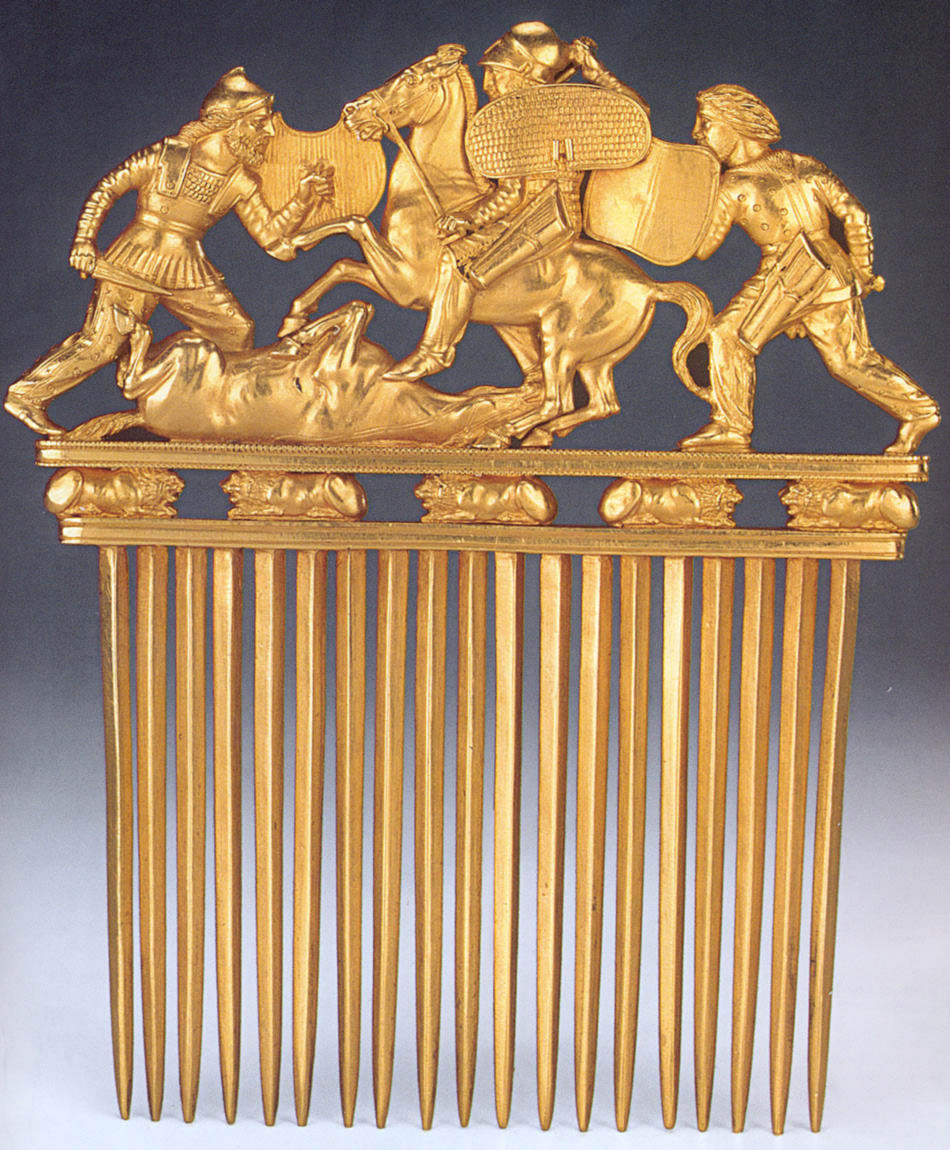 A larger image of the Scythian Gold Comb with Battle Scene from the Solokha Kurhan, Hermitage Museum, St. Petersburg
Comb with a Battle Scene
Created: Scythian Culture. Late 5th-early 4th century BC
Found: Solokha Barrow. Entrance Burial. Dneiper Region, Zaporozhye Region
Title: Comb with a Battle Scene
Epoch. Period: Early Iron Age
Date: Scythian Culture. Late 5th-early 4th century BC
Place of finding: Dneiper Region, Zaporozhye Region
Archaeological site: Solokha Barrow. Entrance Burial
Material: gold
Technique: casting, chasing
Dimensions: 12.6 x 10.2 cm
Acquisition date: Entered the Hermitage in 1914; transferred from the Imperial Archaeological Commission
Inventory Number: Дн.1913-1/1
Hermitage Museum, St. Petersburg



---


71 (Color plates 12, 13)
The group is worked in relief on both sides, giving the illusion of being sculptured in the round. In Western art, the direction of the victor is usually from left to right, so the side of the comb giving the horseman and his squire the left half of the scene is probably the principal one. Their opponent has been thrown off his mount, which lies helplessly on its back. Dress and armor combine local costume with such Greek elements as the Corinthian helmet on the rider and the metal cuirasses. The workmanship is purely Greek and may go back to the last quarter of the 5th century B.C., though some scholars have connected the rider with the Attic tomb relief of Dexileos, which is dated 394 B.C.

Comb ornamented with three warriors in combat, and five crouching lions below. Gold, height 12.6 cm. (4 13/16 in.), width 10.2 cm. (4 15/46 in.).

Greek workmanship, beginning of the 4th century B.C. Ukrainian SSR, Melitopol region, Solokha kurgan. Excavations of N. I. Veselovsky, 1913. Hermitage, Dn 1913, 1/1.

Mantsevich, "Greben i fiala iz kurgana Solokha," pp. 217-238; Artamonov, Splendor, pls. 147, 148, 150.

Source: pp. 64 & 112, "From the Lands of Scythians: Ancient Treasures from the Museums of the U.S.S.R., 3000 B.C.–100 B.C.": The Metropolitan Museum of Art Bulletin, v. 32, no. 5 (1973–1974) Piotrovsky, Boris (1973–1974)



---


Referenced on p.24, Scythians 700-300 B.C. by E.V.Cernenko, A.McBride, M.V.Gorelik
One of the most famous of all Scythian finds: the golden comb, featuring a battle scene, from the 4th century Solokha royal burial mound.

---

Back to Scythian, Saka and Sarmatian Illustrations of Costume and Soldiers