Join Amazon Prime - Watch Thousands of Movies & TV Shows Anytime - Start Free Trial Now


Palace at Delhi, Mughal India, c.1820 –1830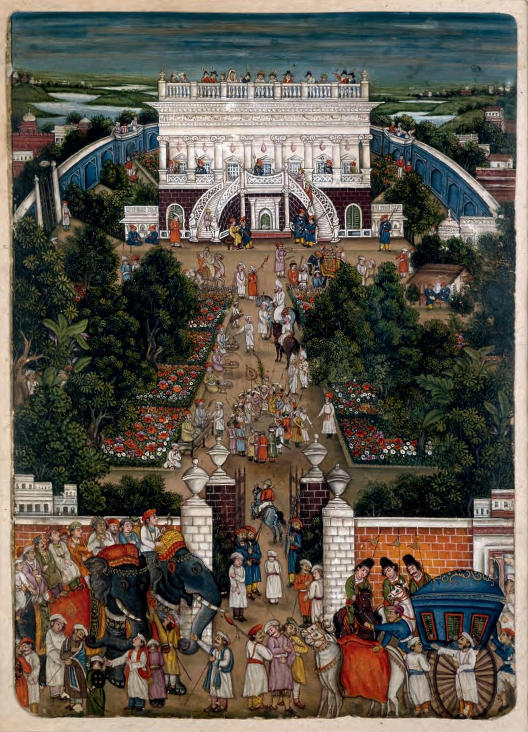 A larger image of Palace at Delhi, Mughal India, c.1820 –1830.

207 Palace at Delhi
India, Mughal, Delhi, ca. 1820 –1830
Ink, opaque watercolour, and gold on paper; 29.3 x 21 cm
AKM 00464

This painting depicts the palace of Begum Somru, which is also illustrated in Reminiscences of Imperial Delhi, an album of 89 folios and around 130 paintings of Delhi monuments from the pre-Mughal and Mughal periods, compiled by and accompanied by the text of Sir Thomas Theophilus Metcalfe (1795 –1853), the Governor-General's Agent at the imperial court. Metcalfe describes Begum Somru as the widow of a certain "Walter Reinihard, born of obscure parents", who entered the French Service under the name of "Summer." Due to his dark complexion, he was given the sobriquet "Sombre," subsequently corrupted into Sumroo, by which name "Her Highness was generally known, though she always styled herself the Begum Sombre" (Reminiscences of Imperial Delhi, The Sir Thomas Metcalfe Album, The British Library, London). Metcalfe also comments on the doubtful origins of the Begum, who was either believed to come from a noble Mughal family or to have been a native Kashmiri who was sold to Somru as a slave. In either case, Begum Somru inherited her husband's principality upon his death and remained active as an independent ruler until her death in 1837. Ladan Akbarnia
The colonial-style palace is shown from the south side. The strong symmetry of the gardens may still correspond to the design principles of Mughal gardens. The entire complex and its ar­chitectonic details, like gables, Corinthian pillars, and the symmetrical design of the outside staircase, are nevertheless taken from the European Baroque style.
There is a striking contrast between the strict symmetry displayed in the architecture and the park and the people, who seem to be moving around the grounds freely and casually without any official purpose. By contrast, in the darbar scene (see cat. no. 194), which portrays a similarly large group of people in front of a palace, every person in the crowd has a strictly defined position that is determined by class. In traditional Mughal paintings, a casual portrayal of a scene without any clear occasion, as is such in this painting, would have been unthinkable. The cheerful hustle and bustle would have been interpreted as chaos and a sign of the deterioration of sovereign authority.
The influence of European painting makes itself felt in this picture, not only because of the Colonial architecture, but also in the choice and presentation of its subject. The painter, who was most certainly schooled in traditional painting, was probably presented with the print of a European Baroque marketplace that he in turn adapt­ed to his Indian environment. Verena Daiber / Stephan Popp
Source: Treasures of the Aga Khan Museum, Masterpieces of Islamic Art


Previous: Mahadaji Sindhia, c.1820
Next: An Afghan (?) mounted, a lance held across his right shoulder, c.1820, India.


---

Other 19th century Indian Illustrations of Costume & Soldiers