Try Amazon Home Services
Painting, Akali Sikhs, opaque watercolour on paper, Lahore, c. 1850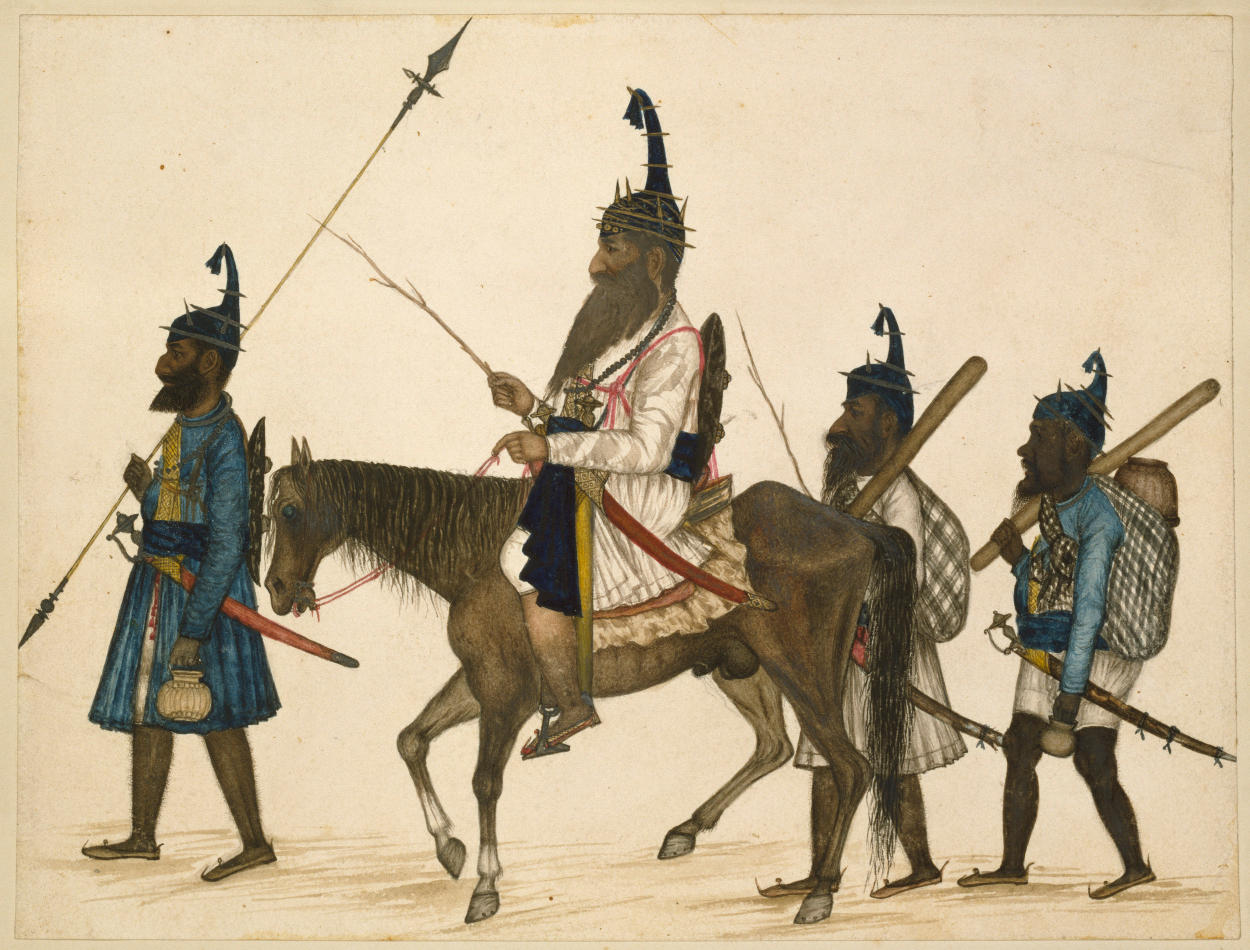 A larger image of Akali Sikhs on the march, Punjab, India, c. 1860.
Physical description: A group of four Akalis on the march. One rides a pony, all wear the distinctive Akali turban.
Place of Origin: Lahore, Pakistan
Date: ca. 1850
Artist: Unknown
Materials and Techniques: Watercolour on paper
Dimensions: Height: 18.5 cm, Width: 24.5 cm

This painting depicts a group of Akali Sikhs on the march and was painted in the Panjab around 1860. The word Akali means a devotee of Akal, the Timeless One (God), and refers to wandering bands of religious zealots who dressed in blue and often carried several steel chakras (quoits) around their tall cotton turbans; they were also known as Nihangs, from the Persian nahang (crocodile), which means one who has nothing and is free from anxiety and care.

'Company paintings' were produced by Indian artists for Europeans living and working in the Indian subcontinent, especially British employees of the East India Company. They represent a fusion of traditional Indian artistic styles with conventions and technical features borrowed from western art. Some Company paintings were specially commissioned, while others were virtually mass-produced and could be purchased in bazaars. Company painting developed late in the Panjab and never became as common as in other parts of India.

Museum number: IS.11-1987
Source: Victoria and Albert Museum


Previous: Painting, Akali Sikhs, opaque watercolour on paper, Lahore, c. 1850
Next: Painting, An Akali Sikh seated near the Golden Temple, by William Carpenter (1818-99), watercolour on paper, Amritsar, Punjab, India, 1854.


---

Back to Sikh Akali warriors and their turbans