Try Amazon Home Services


Ilkhanid Illustration
Execution of Afrāsiyāb
from the 1341 Inju Shahnama, Shiraz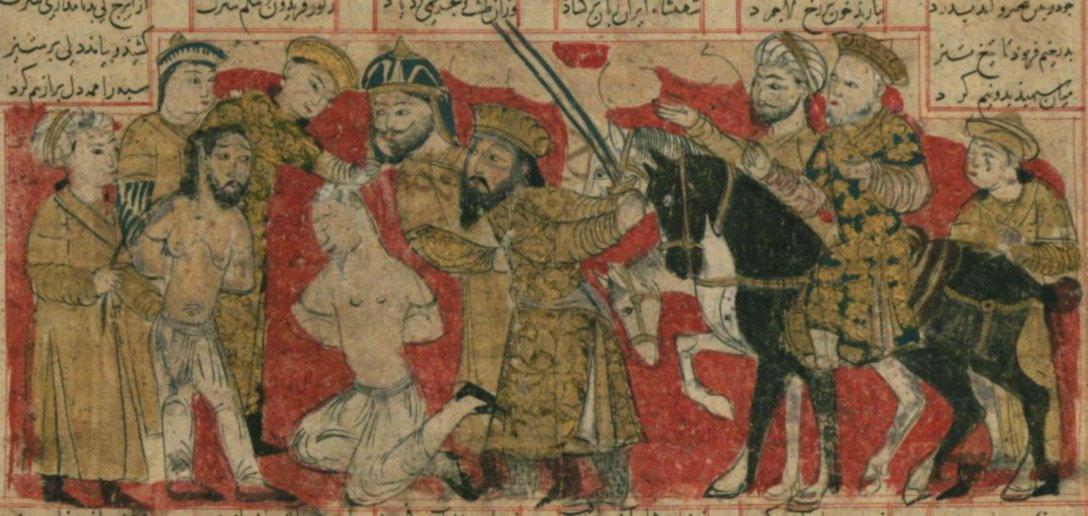 A larger image of the Execution of Afrāsiyāb. 1341 Shahnama - Inju Dynasty, Shiraz Iran, The Walters W.677.
W.677Ba: Execution of Afrāsiyāb

Shelf mark: W.677
Manuscript: Four leaves from a Shahnama
Text: title Shāhnāmah
Vernacular: شاهنامه
Author: Authority name: Firdawsī
Supplied name: Abū al-Qāsim Ḥasan ibn Isḥāq Firdawsī Ṭūsī
Name, in vernacular: ابو القاسم حسن بن اسحاق فردوسى طوسى
Note: Author dates preferred by cataloger: d. 411 or 416 AH / 1020-5 CE

Abstract
These four leaves come from a dispersed illustrated and illuminated manuscript of Firdawsī's Shāhnāmah (Book of kings), commissioned by Qawām al-Dawlah wa-al-Dīn Ḥasan, vizier to the Inju governor in Fars province. It was copied by Ḥasan ibn Muḥammad ibn ʿAlī al-Ḥusaynī in 741 AH / 1341 CE. The text is written in black nastaʿlīq script with chapter headings in red, blue, and black taʿlīq script. The dispersal of the manuscript occurred in the early fourteenth century AH / twentieth CE, and over one-half of its leaves are extant and housed in public and private collections. The illuminated folio with the year of the manuscript's completion and a dedication to the patron is housed in the Arthur M. Sackler Gallery (S1986.110 and S1986.111), and the folio with the colophon and finispiece is housed in the Prince Sadruddin Aga Khan Collection (IR.M. 6/I). The manuscript's illustrations have been associated with production in Shiraz. The Walters paintings are as follows: Zāl joins Miḥrāb in battling the Turanians, Battle of the Iranians and the Turanians, Execution of Afrāsiyāb, and Bahrām Gūr in a peasantís house.

Date: Ramaḍān 741 AH / 1341 CE
Origin: Iran
Scribe: Supplied name: Ḥasan ibn Muḥammad ibn ʿAlī al-Ḥusaynī
Name, in vernacular: حسن بن محمد بن على الحسينى
Note: Name does not appear on any of the leaves; see bibliography, Simpson
Form: Leaf
Genre: Historical, Literary -- Poetry
Language: The primary language in this manuscript is Persian.
Dimensions: 30.5 cm wide by 36.5 cm high
Written surface: 24.0 cm wide by 28.5 cm high
Layout: Columns: 6, Ruled lines: 30
Contents: fols. W.677Aa - W.677Db:
Title: Shāhnāmah
Author: Firdawsī
Scribe: Ḥasan ibn Muḥammad ibn ʿAlī al-Ḥusaynī
Hand note: Main text written in black nastaʿlīq script; chapter headings written in red, blue, and black taʿlīq script
Provenance: Name: Dikran Kelekian
Acquisition: Walters Art Museum, 1931, by Henry Walters bequest
Source: The Walters W.677



---


12 fig. 181
The Execution of Afrasiyab
The Walters Art Museum, Baltimore (W. 677b)

Afrasiyab was the ruler of Turan, and the Shahnama devotes a large number of verses to his war with the Iranian ruler Kaikhusrau. The story ends with the capture of Afrasiyab and his brother Garsivaz, both of whom are to be beheaded. The illustration depicts the moment before Kaikhusrau executes Afrasiyab with his sword. Many representatives of the Iranian court witness the scene, while Garsivaz stands next to his brother awaiting his own fate. In its composition and the relationship between the many characters illustrated, this scene is one of the most complex in the manuscript, although it is set against a flat back-ground with no indication of vegetation.1 In particular, the physical and spiritual proximity of the two captive brothers, half-naked and about to be killed, reveals all the drama of the situation.

1. Grube 1962, pp. 33-34, no. 25.
Source: The Legacy of Genghis Khan Courtly Art and Culture in Western Asia 1256-1353



---


Baltimore, The Walters Art Museum
Title of Work: Shahnama (1341)
Manuscript: Ms. W. 677a-d
Accession Number: Ms. W. 677b
Chapter 13g - The Great War between Kay Khusrau and Afrasiyab
Scene: The execution of Afrasiyab
Dimensions (h x w): 109 x 238 mm
Format: Stepped within borders
Reconstructed Folio: 156v
Hijri Date: 741 Dhu'l-Qa'da 20
Gregorian Date: 1341 May 14
School: Shiraz
Source: Shahnama Project



Previous: Kay Khusraw crossing the sea
Next: The Paladins of Kay Khusrau Perish in a Snowstorm, Injuid Shahnama, 1341
Back to the 1341 Injuid Shahnama, Shiraz.