Try Amazon Music Unlimited Free Trial


Ilkhanid Illustration

Kay Khusraw (Khusrau) crossing the sea.
[Kay Khusrau crosses Lake Zara]
from the 1341 Inju Shahnama, Shiraz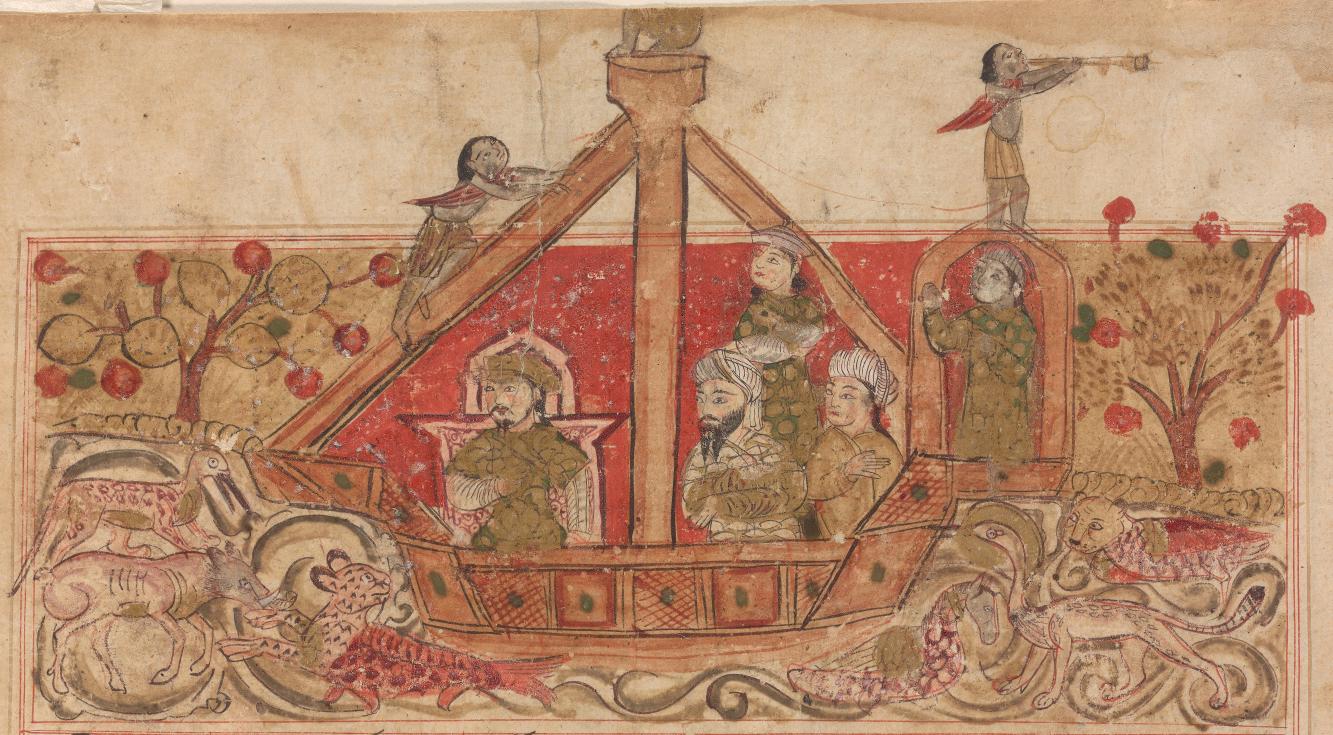 A larger image of Kay Khusraw crossing the sea. 1341 Shahnama - Inju Dynasty, Shiraz.
Folio from a Shahnama (Book of kings) by Firdawsi (died 1020); recto: text and illustration: Kay Khusraw crossing the sea; verso: text.
Detached folio from a dispersed copy of the Shahnama (Book of kings) by Firdawsi; text: Persian in black naskh script; heading in red; recto: illustration and text: Kay Khusraw crossing the sea, 6 columns, 20 lines; verso: text: 6 columns, 30 lines; one of a group of 7 folios.
Label:
The Shahnama (Book of kings) was completed by the poet Firdawsi in about 1010 and consists of some fifty thousand verses. Recounting Iran's mythical and historical past--from the rule of the legendary Pishdadian dynasty (when time began) to the fall of the Sasanian dynasty in 651--Firdawsi's epic represents the most popular illustrated text in the Islamic world.
The painting on view is from one of the earliest surviving copies of the Shahnama, completed during the rule of the Inju dynasty (1325-53) in Iran's southern province of Fars. It depicts the mythical Persian king Kay-Khusraw, whose long and bitter conflict with Afrasiyab, the king of Turan (lands to the east of Iran), embodies one of the text's central themes--the battle between good and evil. During one of his many campaigns to vanquish his enemy, Kay-Khusraw crosses the sea and arrives at a place known as the "Lion's Mouth," where he observes lions fighting oxen in the waves, men with hair like lassos, a fish with a leopard's head, and a crocodile with the head of an onager. Such lively descriptive passages, mixing fact and fantasy, offered artists ample opportunity to exhibit their creative talents.

Calligrapher: Hasan ibn Muhammad ibn Ali ibn Husayni (Mawsili)
Patron: Qiwam al-Dawla wa'l-Din
Historical period: Inju dynasty, Mongol period, February 1341 (Ramadan 741 A.H.)
Medium: Ink, opaque watercolor and gold on paper
H x W: 13.3 x 24.1 cm (5 1/4 x 9 1/2 in)
Geography: Iran, Shiraz
Accession Number: F1942.12
Classification: Manuscript
Type: Detached manuscript folio
Source: Freer | Sackler



---


Washington, D.C., Freer Gallery of Art
Title of Work: Shahnama (1341)
Manuscript: F1942.11-12, 1945.7, 1948.15, 1952.35
Accession Number: F1942.12
13g - The Great War between Kay Khusrau and Afrasiyab
Scene: Kay Khusrau crosses Lake Zara
Dimensions (h x w): 133 x 241 mm
Format: Irregular, random into the margins
Reconstructed Folio: 154r
Hijri Date: 741 Dhu'l-Qa'da 20
Gregorian Date: 1341 May 14
School: Shiraz
Source: Shahnama Project



---


The ship scene with "Afrāsiyāb Fleeing Before Kai Khuzraw (gallery IX, case 2A) from the Shah Namah manuscript of Kawwam al-Din written in Shiraz, 1341, belonging to Mr. Kelekian, presented a fine example of the archaic style (Fig. 5). The two bearded figures of this painting readily recalled certain facial types in the Demotte Shah Namah.13

13 D. Brian, "A Reconstitution of the Miniature Cycle in the Demotte Shah Namah," in Ars Islamica VI, (1939), Figs. 1, 27.

Source: "Six Thousand Years of Persian Art" the Exhibition of Iranian Art New York, 1940 by Richard Ettinghausen in Ars Islamica Vol. 7.


Previous: Shida, Son of Afrāsiyāb, Slain by Kay Khusraw
Next: Execution of Afrāsiyāb, Injuid Shahnama, 1341
Back to the 1341 Inju Shahnama


---