Try Twitch Prime


Ilkhanid Illustration
Story of Luhrasp?.
[perhaps 'Luhrasp assassinated']
from the 1341 Inju Shahnama, Shiraz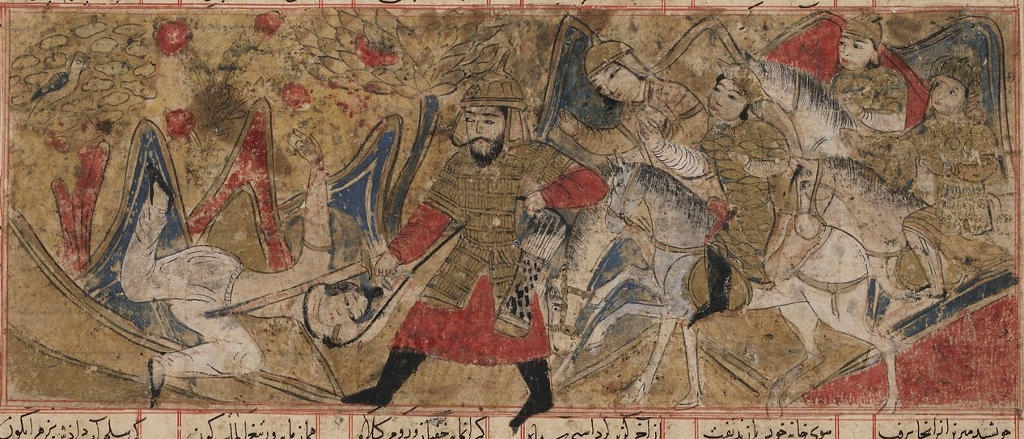 A larger image of the Story of Luhrasp. 1341 Shahnama - Inju Dynasty, Shiraz.
Folio from a Shahnama (Book of kings) by Firdawsi (d.1020)
Detached folio from a dispersed copy of the Shahnama (Book of kings) by Firdawsi; text: Persian in black naskh script; recto: text, Mirin asked in marriage Caesar's second daughter; verso: text: Gushtasp fighting a dragon and an unidentified painting from another part of the manuscript; six columns; twenty lines; one of a group of twelve folios. Calligrapher: Hasan ibn Muhammad ibn Ali ibn Husayni
Patron: Qiwam al-Dawla wa'l-Din
Historical period: Inju dynasty, Mongol period, February 1341 (Ramadan 741 A.H.)
Medium: Ink, opaque watercolor and gold on paper
H x W: 36.4 x 30 cm (14 5/16 x 11 13/16 in)
Geography: Iran, Shiraz
Accession Number: S1986.116
Classification: Manuscript
Type: Detached manuscript folio
Source: Smithsonian


Previous: The Paladins of Kay Khusrau Perish in a Snowstorm
Next: Gushtasp killing the Dragon in Rum, Injuid Shahnama, 1341
Back to the 1341 Injuid Shahnama, Shiraz.


---