Try Amazon Prime 30-Day Free Trial


Ilkhanid Illustration
The Paladins of Kay Khusrau Perish in a Snowstorm
from the 1341 Inju Shahnama, Shiraz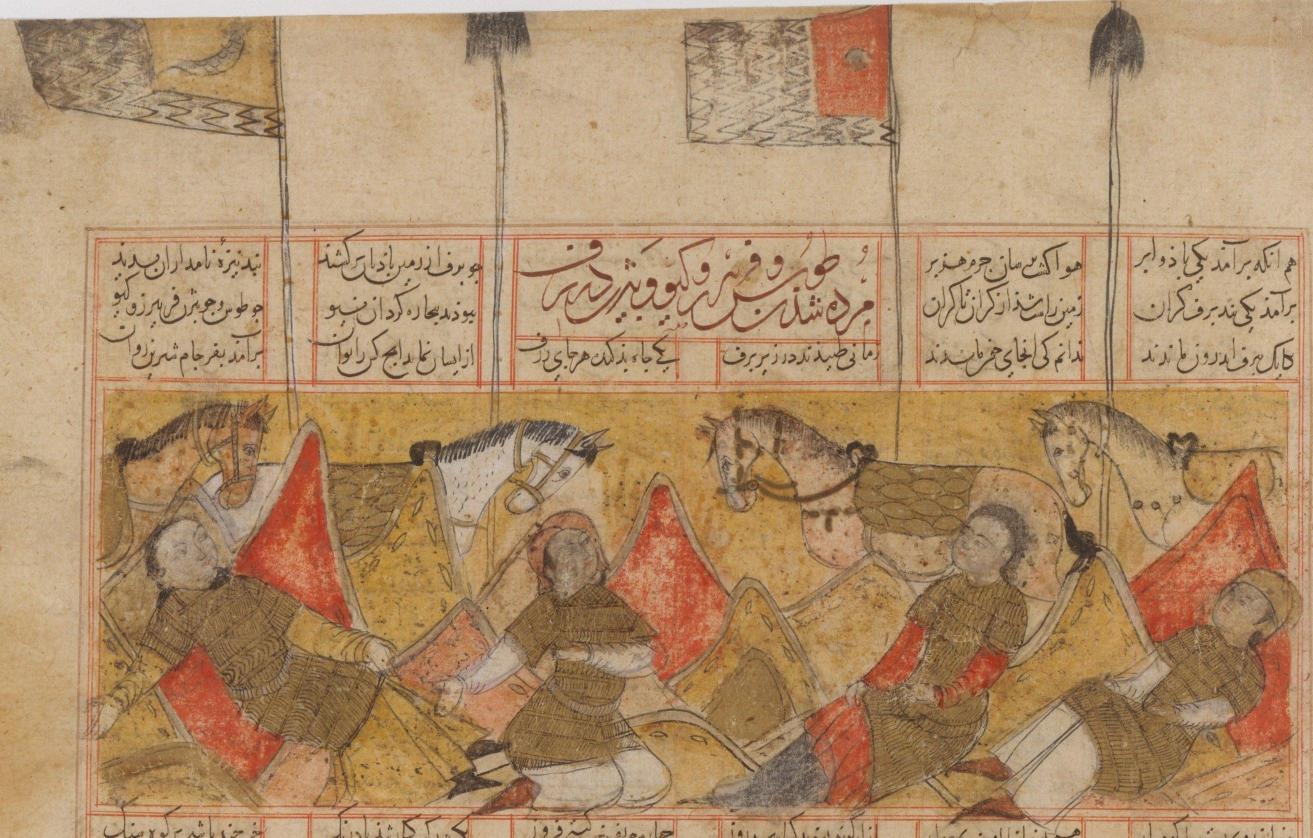 A larger image of The Paladins of Kay Khusrau Perish in a Snowstorm. 1341 Shahnama - Inju Dynasty, Shiraz.
The shah Kay Khusrau went to the mountains and disappeared in the snow. When his paladins realized what happened they set off to look for him, but they were caught in a snowstorm while asleep and they all perished. The illustration shows the typical traits of Injuid (1307-56) composition, with oversize figures against a mountainous landscape with pointed peaks. Another distinctive feature is the device of battle standards thrust into the upper margin of the page across the text to create a sense of expansive space.

"The Four Knights of Kai Khusrau in the Mountains", Folio from a Shahnama (Book of Kings)
Author: Abu'l Qasim Firdausi (935–1020)
Calligrapher: Hasan ibn Muhammad ibn `Ali ibn (?) Husaini, known as al-Mausili
Patron: Commissioned by al-Hasan Qawam al-Daula wa'l-Din (ca. 1303–57)
Object Name: Folio from an illustrated manuscript
Date: A.H. 741/A.D. 1341
Geography: Made in Iran, Shiraz
Medium: Ink, opaque watercolor, and gold on paper
Dimensions:
Page: H. 14 1/2 in. (36.8 cm)
W. 11 5/16 in. (28.7 cm)
Painting: H. 6 3/8 in. (16.2 cm)
W. 9 5/16 in. (23.6 cm)
Mat: H. 22 in. (55.9 cm)
W. 16 in. (40.6 cm)
Classification: Codices
Accession Number: 36.113.2
Source: The Metropolitan Museum of Art, New York.



---


New York, Metropolitan Museum of Art
Title of Work: Shahnama (1341)
Manuscript: 29.160.21-22, 36.113.1-3, 57.51.35-36
Accession Number: 36.113.2
Chapter 13g - The Great War between Kay Khusrau and Afrasiyab
Scene: Kay Khusrau's champions lost in the snow
Dimensions (h x w): 83 x 236 mm
Format: Rectangular, breaking through frame
Hijri Date: 741
Gregorian Date: 1341 (circa)
School: Shiraz
Source: Shahnama Project


Previous: Execution of Afrāsiyāb
Next: Story of Luhrasp, Injuid Shahnama, 1341
Back to the 1341 Injuid Shahnama, Shiraz.