Give the Gift of Amazon Prime


Ilkhanid Illustration
Great Mongol (Demotte) Shahnama
Chapter 35 - Bahram Gur (2).
Bahram Gur appoints Narsi Viceroy of Khurasan.
Tabriz, Persia, c.1330-1350AD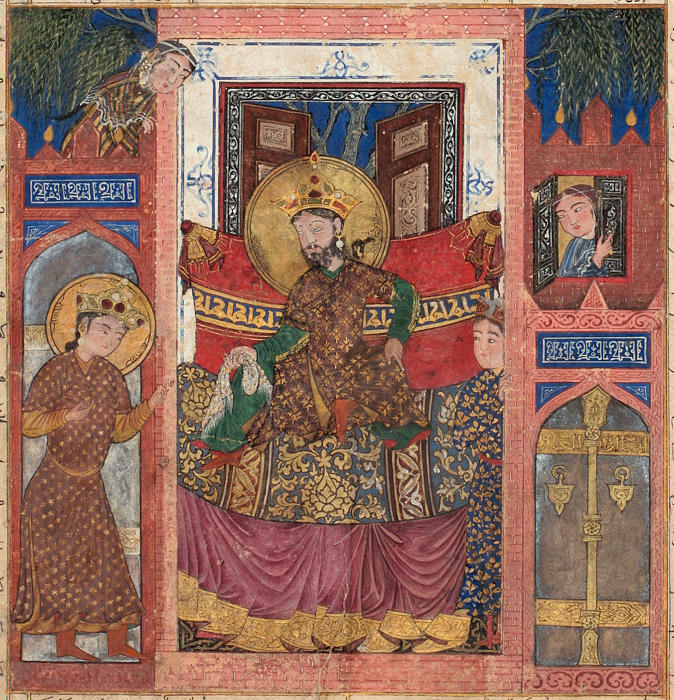 A larger image of Bahram Gur appoints Narsi Viceroy of Khurasan. Great Mongol (Demotte) Shahnama. Tabriz, Persia, c.1330-1350. Ilkhanid Illustration. Khalili Collection, MSS 994.
Bahram Gur Sends his Brother Narsi as Viceroy to Khurasan, from the Great Mongol ('Demotte') Shahnamah
MSS 994
Tabriz, Iran
1330s AD or later
ink, gold, silver and opaque watercolour on paper
text copied in naskh, with 31 lines to the page, arranged in 6 columns, two to a couplet; heading (on the recto) in a larger hand, in gold
53.1 x 36.8cm (folio, remargined); 40.3 x 28.7cm (written surface); 21.2 x 20.2cm (illustration, recto)

Within only a few decades of its completion in the early 11th century, the Shahnamah ('Book of Kings') by the great Persian poet Firdawsi was accepted all over the Persian-speaking world as the national epic. Verses were used as inscription friezes in palaces, and paintings of its heroic cycles, contemporary chroniclers tell us, were used to decorate the walls of royal audience halls: allusions to the epic also appear on the mina'i and lustrewares of 12th- and 13th-century Iran [see POT 875]. Illustrated Shahnamah manuscripts were, however, much slower to appear, and the earliest of these, with paintings of modest dimensions, date to the very end of the 13th century. The first major illustrated Shahnamah manuscript was the 'Great Mongol' Shahnamah (often called the 'Demotte' Shahnamah, after the Parisian dealer who split it up), the remains of a manuscript of about 280 folios with about 190 illustrations, of which 57 survive. For its period, it was an immense enterprise which rivalled the world history of Rashid al-Din [see MSS 727], and must have taxed even the scriptorium he founded at Tabriz and its complex organisation.
The pages which survive do not include any colophon, and the exact circumstances of the work's production still generate considerable argument. The extreme variety of style and execution of its remaining illustrations, many of which are masterpieces, implies that a large number of painters must have been conscripted to work on the project, and its possible patrons include both the last important Ilkhan, Abu Sa'id (d 1335) and one of the Jalayirid rulers of Baghdad and then Tabriz from the 1360s. The internal stylistic development suggests, moreover, that the paintings were executed over a considerable period of time.

J.M. Rogers, The Arts of Islam. Masterpieces from the Khalili Collection, London 2010, cat.206, pp.174–5.
Source: Khalili Collection



---


London, Sotheby's
Title of Work: Shahnama (Great Mongol)
Manuscript: 1981 April 17, lot 14
Accession Number: 1981 APR 17, lot 14
Chapter 35b - Bahram Gur (2)
Scene: Bahram Gur appoints Narsi Viceroy of Khurasan
English Title: Bahram Gur Talking to Narsi
Dimensions (h x w): 210 x 200 mm
Format: Rectangular within borders
Reconstructed Folio: 212r
Gregorian Date: 1335 (circa)
School: Tabriz
Source: Shahnama Project


Previous: f. 208v: 'Bahram Gur hunts onagers', Great Mongol (Demotte) Shāh-Nāmeh, Tabriz, c.1335 - Ilkhanid Soldiers. Worcester Art Museum, 1935.24.
Next: f. 214v: 'Bahram Gur kills a wolf in India'. Great Mongol (Demotte) Shahnama. Tabriz, Persia. Ilkhanid Illustration. Harvard Art Museums 1958.288.
Back to the Great Mongol (Demotte) Shah-Nameh. Tabriz, Ilkhanid Persia.


---