Try Prime Discounted Monthly Offering


Ilkhanid Illustration
Great Mongol (Demotte) Shahnama
Chapter 34 - Yazdagird the Sinner (21 years). Bahram Gur hunts in the company of Azada.
Tabriz, Persia, c.1330-1340AD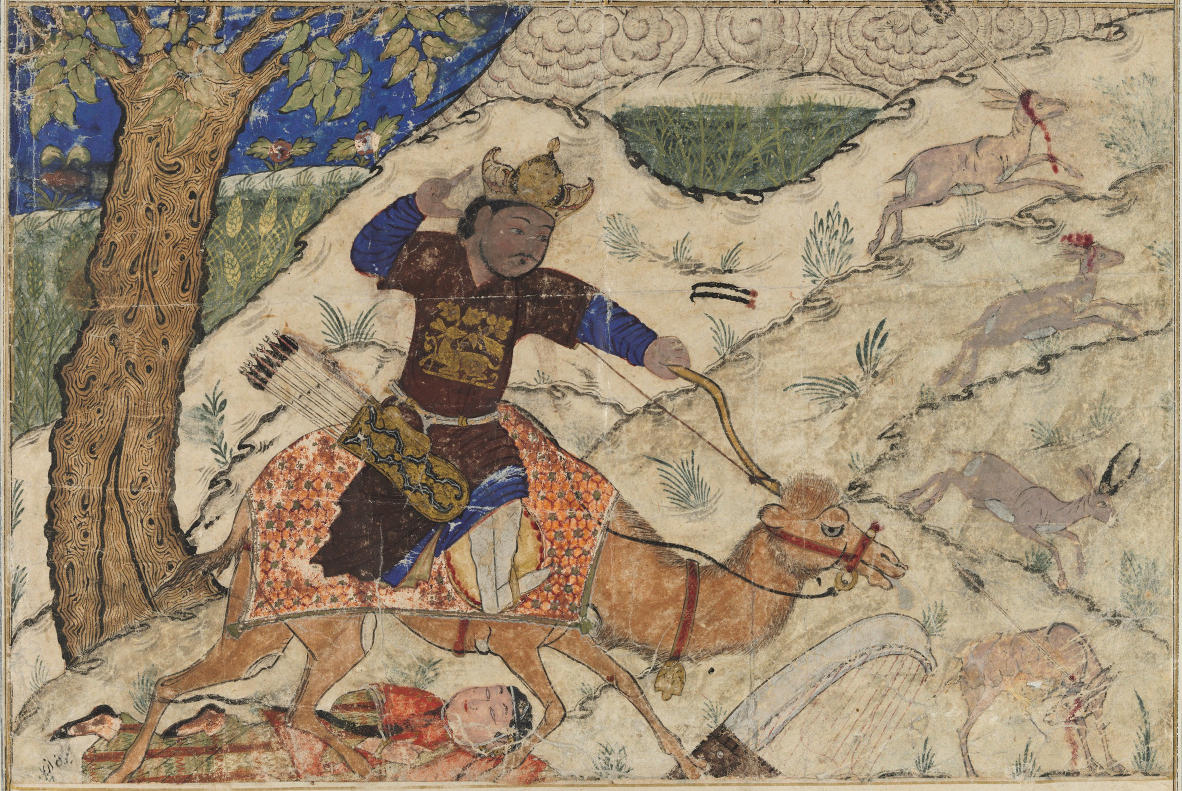 A larger image of 'Bahram Gur hunts in the company of Azada'. Great Mongol (Demotte) Shahnama.
Identification and Creation
Object Number: 1957.193
Title: Bahram Gur Hunts with Azada (text, recto; painting, verso), illustrated folio from the Great Ilkhanid Shahnama (Book of Kings)
Series/Book Title: Shahnama
Classification: Manuscripts
Work Type: manuscript folio
Date: c. 1330-1340
Creation Place: Middle East, Iran, Tabriz
Period: Ilkhanid period
Culture: Persian
Physical Descriptions
Medium: Ink, opaque watercolor and gold on paper
Dimensions: folio: 49.3 x 40.2 cm (19 7/16 x 15 13/16 in.)
Acquisition and Rights
Credit Line: Harvard Art Museums/Arthur M. Sackler Museum, Gift of Edward W. Forbes
Accession Year: 1957
Source: Harvard Art Museums



---


55 Fig. 110
Bahram Gur Hunting with Azada
Image: 21 x 29 cm (8¼ x 11⅜ in.)
Harvard University Art Museums, Cambridge, Mass., Gift of Edward W. Forbes (1957.193)

Ardashir was the first king of the Sasanian dynasty, and the Shahnama continues with accounts of the Sasanians. Bahram Gur (the sobriquet Gur, or onager, referred to his prowess at hunting), another popular hero-king, is featured in several sections of the text, and this fragmentary copy of the Shahnama includes seven paintings depicting his exploits. His father, the king Yazdigard, was a tyrant, and in order to preserve the prince Bahram from his evil influence, the sages persuaded him to send the child to be raised and educated by the Arabs. The text recounts an episode in Bahram Gurís life frequently represented in Persian art (see cat. nos. 97, 169). One day he went deer hunting with his favorite harp player, Azada. She challenged him to prove his skill by changing a buck into a doe, a doe into a buck, and then to shoot a deer so as to pin its foot to its ear. Despite his successful completion of these tasks, Azada taunted Bahram by saying that only the devil could shoot as he had done. This infuriated Bahram Gur, who flung her from the camel and trampled her to death.
The painting includes the entire episode in a single image: Bahram Gur is seen performing all three feats and at the same time trampling Azada under the hooves of his camel.1

1. Grabar and Blair 1980, pp. 150ó51 , no. 47; Blair and Bloom 2001, fig. 2.
Source: p.257, The Legacy of Genghis Khan Courtly Art and Culture in Western Asia 1256-1353



---


Cambridge, Harvard University Art Museums
Title of Work: Shahnama (Great Mongol)
Manuscript: 1919.130-1960.190
Accession Number: 1957.193
Chapter 20 - Iskandar (14 years)
Scene: Bahram Gur's mount tramples Azada
Dimensions (h x w): 210 x 290 mm
Format: Rectangular within borders
Reconstructed Folio: 197v
Gregorian Date: 1335 (circa)
School: Tabriz
Source: Shahnama Project


Previous: f. 195v: 'Shapur executes Mani'. Great Mongol (Demotte) Shahnama. Tabriz, Persia. Ilkhanid Illustration. Reza Abbasi Collection, Tehran.
Next: f. 204v: 'Bahram Gur finds Jamshid's treasures', Great Mongol (Demotte) Shāh-Nāmeh, Tabriz, c.1335 - Ilkhanid Illustration. Freer Gallery of Art F1935.24.
Back to the Great Mongol (Demotte) Shah-Nameh. Tabriz, Ilkhanid Persia.


---