Try Amazon Home Services


Ilkhanid Illustration
Great Mongol (Demotte) Shāh-Nāmeh
Chapter 15 - Gushtasp
Isfandiyar demands the kingdom from his father Gushtasp
Tabriz, c.1335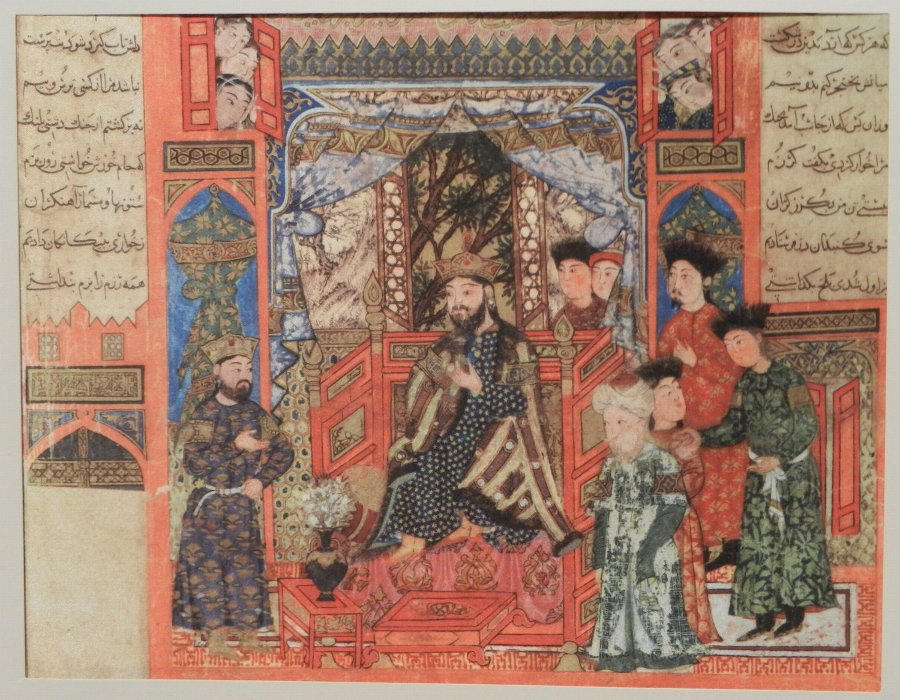 Picture source
Florence, Villa I Tatti, Berenson Collection
Title of Work: Shahnama (Great Mongol)
Manuscript: Ms. II. 1
Chapter 15 - Gushtasp (120 years)
Scene: Isfandiyar demands the kingdom from his father Gushtasp
Dimensions (h x w): 230 x 290 mm
Format: Stepped within borders
Reconstructed Folio: 143r
Gregorian Date: 1335 (circa)
School: Tabriz
Ownership: Bernard Berenson, Ex-Demotte, 1913.
Patron: Ghiyath al-Din Muhammad
Folios extant in ms.: 1
Columns x Rows: 6 x 21
Page Size (h x w): 430 x 310 mm
Text Size (h x w): x 290 mm
Script: Naskh
Source: Shahnama Project


Previous: f. 032v: 'Kay Kavus's champions fight the King of Mazandaran' (destroyed). 1937, formerly Kelekian Collection, New York.
Next: f. 144r: 'Zal greets Bahman'. Great Mongol (Demotte) Shahnama. Tabriz, Persia. Ilkhanid Illustration. Collection des Musées d'Art et d'Histoire, Geneva 1971-107/2a.
Back to the Great Mongol (Demotte) Shah-Nameh. Tabriz, Ilkhanid Persia.


---