Try Amazon Prime 30-Day Free Trial


Ilkhanid Illustration
Great Mongol (Demotte) Shāh-Nāmeh
Chapter 41 - Kisra Anushirvan (48 years)
Iskandar mourned
Tabriz, Persia, c.1335AD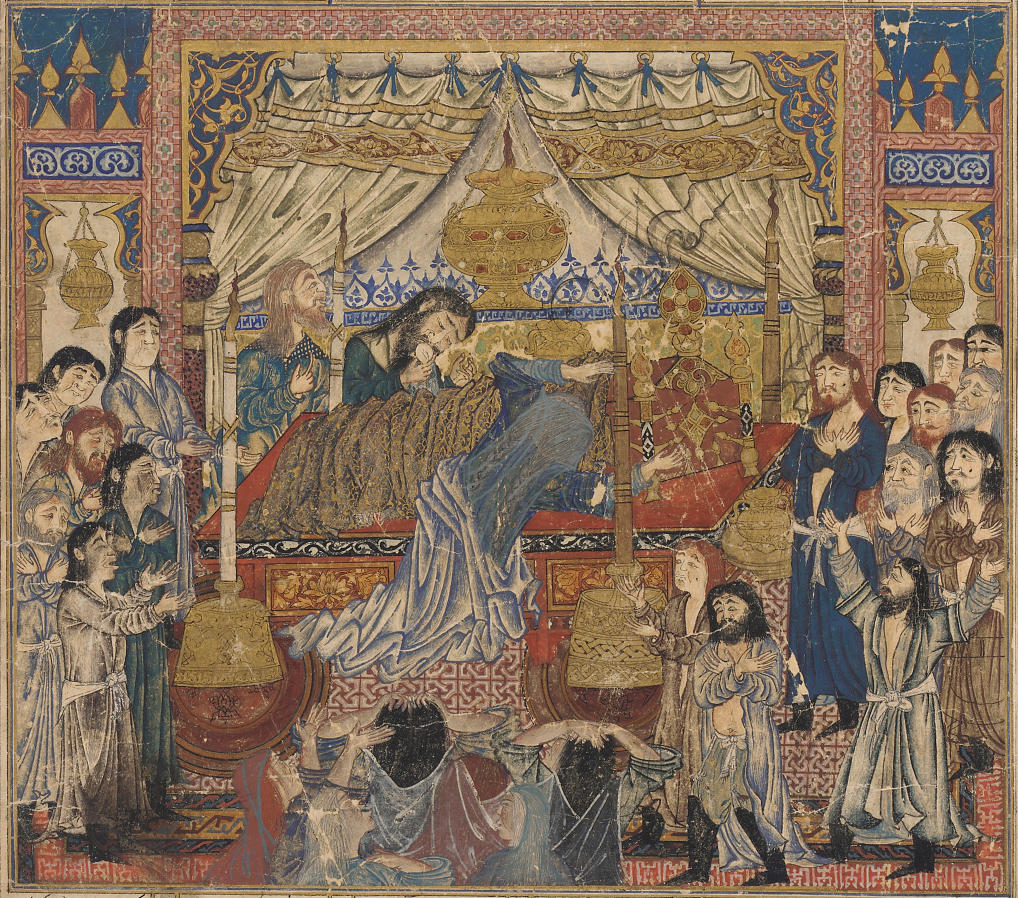 A larger image of 'Iskandar mourned', Great Mongol (Demotte) Shāh-Nāmeh, Tabriz, c.1335 - Ilkhanid Soldiers. Free Gallery, F1938.3.
Folio from a Shahnama (Book of kings) by Firdawsi (died 1020); recto: The bier of Iskandar (Alexander the Great); verso: text
HISTORICAL PERIOD: Il-Khanid dynasty, Mongol period, ca. 1330
MEDIUM: Ink, opaque watercolor and gold on paper
DIMENSIONS: H x W: 57.6 x 39.7 cm (22 11/16 x 15 5/8 in)
GEOGRAPHY: Iran, Tabriz
CREDIT LINE: Purchase — Charles Lang Freer Endowment
ACCESSION NUMBER: F1938.3
PROVENANCE:
To 1938: Kirkor Minassian (1874-1944), New York. [1]
From 1938: Freer Gallery of Art, purchased from Kirkor Minassian, New York. [2]
Notes:
[1] Curatorial Remark 1 in the object record.
[2] See note 1.

PREVIOUS OWNER
Kirkor Minassian 1874 - 1944
LABEL
The Shahnama (Book of kings), the national epic of Iran, recounts the adventures of many legendary kings and heroes from the mythical creation of the world to the fall of the historical Sasanian dynasty in 651. Among the most memorable characters is the Macedonian conqueror, Alexander the Great, known in Persian as Iskandar. Firdawsi explains that Iskandar was the son of Darab (Darius II), who had married a Greek princess, and justifies his invasion of Iran, which the historic Alexander undertook in the year 330 B.C.E., as an attempt to claim his right to the Persian throne.

This remarkable painting is from one of the earliest and most celebrated illustrated volumes of the Shahnama and depicts Alexander's bejeweled coffin in an elaborate interior setting. While Aristotle weeps quietly into a handkerchief, Alexander's mother flings herself onto the bier. Her pose, as well as those of the veiled mourners in the foreground, poignantly expresses the drama and pathos of the scene.

Source: Freer Gallery



---


Boston, Museum of Fine Arts
Title of Work: Shahnama (Great Mongol)
Manuscript: F1923.5 - F1942.2
Accession Number: F1938.3
Chapter 20 - Iskandar (14 years)
Scene: Iskandar mourned
Dimensions (h x w): 250 x 290 mm
Format: Rectangular within borders
Reconstructed Folio: 178r
Gregorian Date: 1335 (circa)
School: Tabriz
Source: Shahnama Project


Previous: f. 175v: 'Iskandar and the talking tree'. Great Mongol (Demotte) Shahnama. Tabriz, Persia. Ilkhanid Illustration. Freer Gallery of Art, Washington, F1935.23.
Next: f. 180r: 'Ardashir meets Gulnar'. Great Mongol (Demotte) Shahnama. Tabriz, Persia. Ilkhanid Illustration. Collection des Musées d'Art et d'Histoire, Geneva, 1971-0107-0003.
Back to the Great Mongol (Demotte) Shah-Nameh. Tabriz, Ilkhanid Persia.


---