Try Amazon Home Services


Ilkhanid Illustration
Great Mongol (Demotte) Shāh-Nāmeh
Chapter 15 - Gushtasp (120 years)
Rustam kills Shaghad before dying
Tabriz, Persia, c.1335AD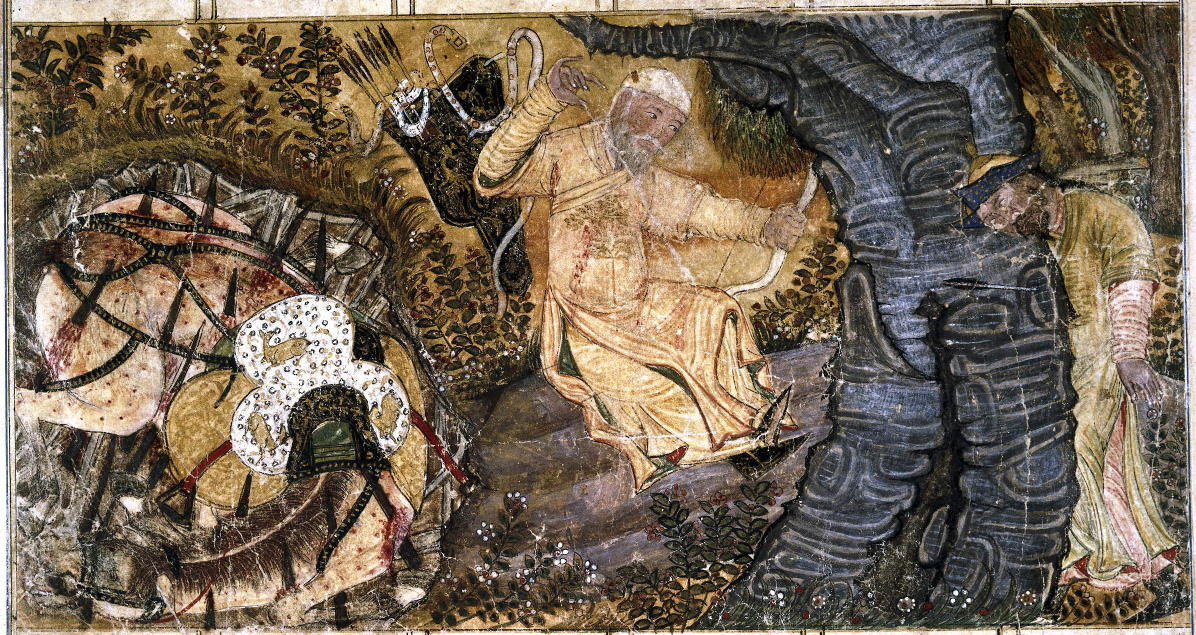 A larger image of 'Rustam kills Shaghad before dying', Great Mongol (Demotte) Shāh-Nāmeh, Tabriz, c.1335 - Ilkhanid Soldiers. British Museum, 1948,1211.0.25.
Object type: painting; manuscript (detached illustrated folio)
Museum number: 1948,1211,0.25
Description:
Rustam slaying Shaghad; single-page painting mounted on detached album folio. Rustam's envious half-brother, Shaghad, sets a trap of spikes in a pit, hidden by turf, for Rustam and his horse, Rakhsh. As Shaghad hides behind a tree, Rustam drags himself out of the pit, where his horse lies impaled, and fires one last arrow, which pierces the tree and Shaghad together, killing Shaghad just before Rustam falls to his own death. Image is situated within the bottom half of the page, surrounded by six columns of Persian text above and below the painting. From an illustrated manuscript of the Shahnama (Book of Kings) of Firdawsi. Section/chapter heading appears in a rectangular panel spanning third and fourth columns and covering second and third lines.
Ink, opaque watercolour and gold on paper.
School/style: Persian School/Style
Culture/period: Ilkhanid dynasty
Date: 1330-1340 (circa)
Production place: Made in: Tabriz (probably), Azarbaijan, North West Iran
Materials: paper
Technique: painted
Dimensions: Height: 40.7 centimetres (page) Width: 29.6 centimetres (page) Height: 15.2 centimetres (image) Width: 29 centimetres (image)

Curator's comments
This painting belongs to an illustrated copy of the Shahnama, or 'Book of Kings', put to verse by the Persian poet Firdawsi around 1010. This manuscript was probably produced in Tabriz, Iran, in the 1330s, toward the end of Ilkhanid Mongol rule in Iran and Central Asia. The episode shown here is the final in the saga of the great warrior Rustam and his faithful red horse Rakhsh.

Rustam's jealous half-brother Shaghhad plotted with the king of Kabul to kill Rustam. They dug a deep pit, lining it with spears and concealing it with bracken. They then invited Rustam to accompany them on a hunting trip, leading him straight to the trap. Falling into the pit, the hero's horse Rakhsh was impaled on the spears and killed, and Rustam was also fatally injured. Realizing his half-brother's treachery before his impending death, however, the wounded Rustam begged Shaghhad to string his bow for him, so that he could protect himself from wild animals as he lay dying. Foolishly, Shaghhad obliged, enabling Rustam to shoot Shaghad dead, pinning him to a tree with his final, well-aimed arrow.

The painting is divided into three parts. On the left, the curve of Rakhsh's body in the pit is echoed by the bending tree-trunk and sagging body of Shaghhad on the right. In the middle, the dying Rustam sits up straight to fire his last arrow, a vertical line at the centre of the story.
Source: British Museum 1948,1211,0.25



---


Fig. 193 (Cat. no. 43). Rustam Slaying Shaghad, from a page of the Great Mongol Shahnama
(Book of Kings), Iran (probably Tabriz), 1330s.
Ink, colors, and gold on paper.
The Trustees of the British Museum, London (1948.12-11.025)


43 Fig. 193
Rustam Slaying Shaghad
Image: 16 x 29 cm (6¼ x 11⅜ in.)
The Trustees of the British Museum, London
(1948.12-11.025)

Shaghad, Rustamís jealous half brother, plotted with the king of Kabul to destroy the hero, and they devised a scheme to trap him under the pretext of a hunting trip. Shaghad conspired to lure Rustam and his brother Zavara into a forest rich with game, which had been prepared with spear-lined pits deceptively covered with turf. Despite the protests of his faithful horse, Rakhsh, Rustam rode forward and fell into one of the pits. He managed to crawl out of it and with his dying breath asked Shaghad to string a bow so that he could ward off predatory animals. Then he used this one shot left to him to slay Shaghad.
This depiction of Rustamís final act of courage and retribution shows him having just discharged the arrow, pinning Shaghad to the tree he had used as cover.1 The figure of the elderly Rustam is framed by the arched branches of the tree, and the massive form of Rakhsh impaled in the pit reinforces the tragedy of a heroís death.

1.Grabar and Blair 1980, pp. 102-3, no. 23.
Source: pp. 165 & 255, The Legacy of Genghis Khan Courtly Art and Culture in Western Asia 1256-1353



---


No. 27 The dying Rostam shoots Shaghad

Ferdowsi, Shahnameh
Il-Khanid: Tabriz, c.1335
Opaque watercolour and ink on paper
London, British Museum, 1948,1211.0.25

This illustration is from the ĎGreat Mongolí Shahnameh, the masterpiece of the late Il-Khanid period, whose illustrations are now widely dispersed. The subject is the same as No. 25 and follows it closely in composition, though the painting is richer and darker. Rostam is shown as an old man with a radiant glow. The tree once more echoes the form of the deceitful Shaghad, pierced by Rostamís final shot. The artist has assimilated elements of both Chinese and Arab painting into a majestic synthesis.
Source: An Explosion of Images, The Fitzwilliam Museum



---


London, The British Museum
Title of Work: Shahnama (Great Mongol)
Chapter 15 - Gushtasp (120 years)
Scene: Rustam kills Shaghad before dying
Dimensions (h x w): 160 x 290 mm
Format: Rectangular within borders
Reconstructed Folio: 155r
Gregorian Date: 1335 (circa)
School: Tabriz
Source: Shahnama Project


Previous: f. 153r: The Funeral of Isfandiyar' [Isfandiyar mourned]. Great Mongol (Demotte) Shahnama. Tabriz, Persia. Ilkhanid. Metropolitan Museum of Art, New York. 33.70.
Next: f. 155v: 'Faramarz mourns Rustam and Zavara'. Great Mongol (Demotte) Shahnama. Tabriz, Persia. Ilkhanid Illustration. Museum of Fine Arts, Boston, 22.393.
Back to the Great Mongol (Demotte) Shah-Nameh. Tabriz, Ilkhanid Persia.


---