Try Amazon Home Services
A Seljuq or Khwarizmian Bowl, late 12th-early 13th century
Seljuq or Khwarizmian Horseman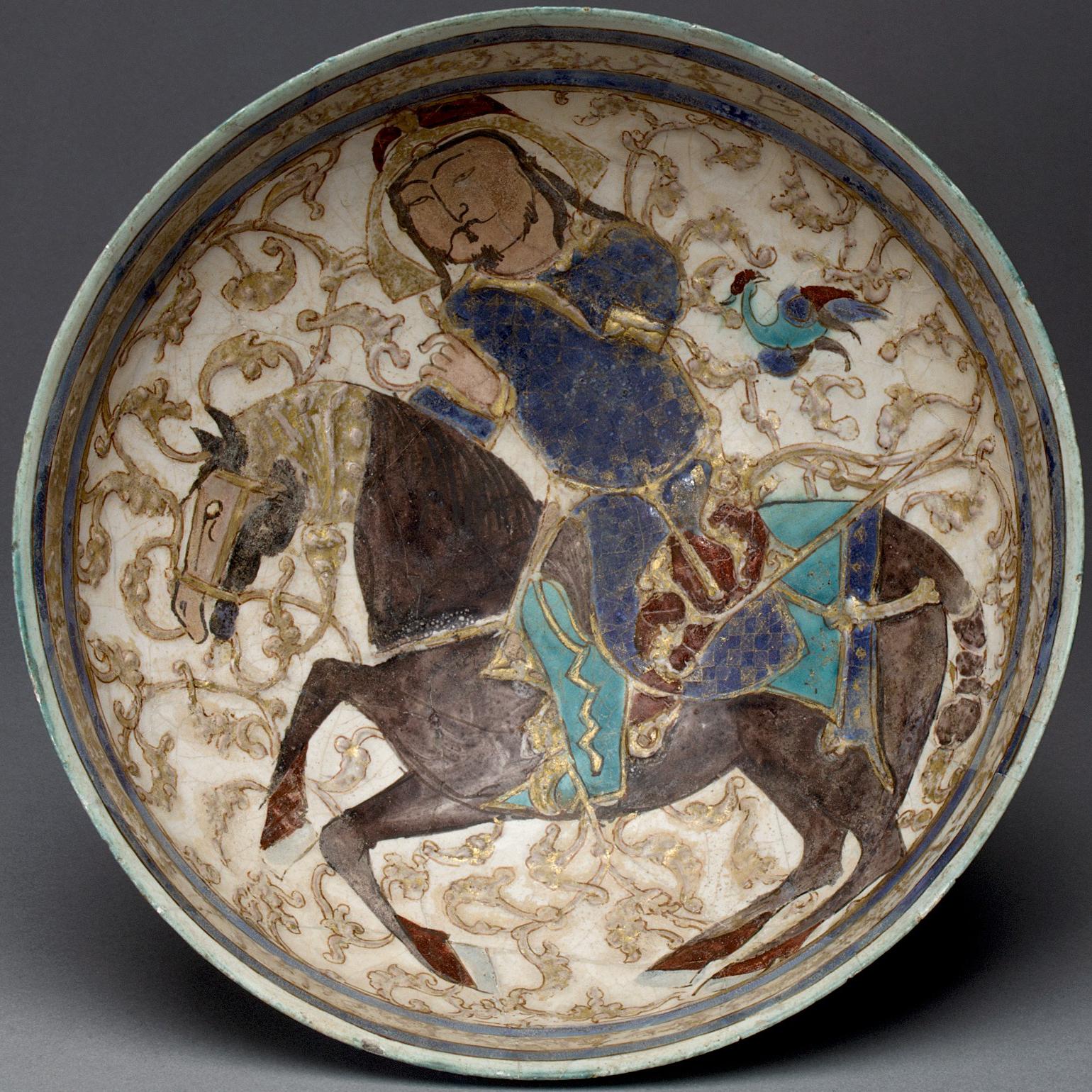 The technique, known as mina'i ("enameled"), involved a complicated double-firing process. Horsemen were favorite subjects in these works, but the comparative monumentality of the horse and of the princely Seljuq figure, which complement each other, makes this piece unusual. With its knotted tail, decorated bridle, curb bit, saddle, tassels, and rectangular blanket fastened by a breast band, the horse has a truly royal and ceremonial presence.

Bowl with Prince on Horseback
Object Name: Bowl
Date: 12th–13th century
Geography: Iran
Culture: Islamic
Medium: Stonepaste; applied decoration, polychrome inglaze and overglaze painted and gilded on opaque monochrome glaze (mina'i)
Dimensions: H. 3 1/2 in. (8.9 cm) Diam. 8 9/16 in. (21.7cm)
Classification: Ceramics
Metropolitan Museum of Art Accession Number: 51.53

Mina'i production, like luster painting, was expensive and labor-intensive because of the double-firing process involved. For added luxurious effect, potters sometimes applied gilded scrolls in relief, as on this bowl. The theme of a prince on horseback—an image of courtly life widely exploited by Seljuq ceramists—is treated here in a "monumental" style.



---


Referenced as figure 400 in The military technology of classical Islam by D Nicolle
400. Ceramic plate., 13th century AD, Iranian, present location unknown (ex-Pope).
pp206-7 A form of leg protection known as the sāq seems to have been used throughout the period under review in many parts of the eastern Islamic world, though perhaps remaining rare. Some, or perhaps all, were fastened to a belt by iron hooks.27 Although those referred to by al Ṭabarī were of mail,28, their shape may have corresponded to leggings which, drawn up over the wearer's knees and presumably fastened to a belt, feature in many illustrated sources from the east (Figs. 18, 126, 233, 237, 300, 307, 313, 331, 334, 341, 342, 356, 359, 365, 400, 422, 468, 477 and 623)
27. Al Ṭabarī, op. cit. vol. II, pp. 586-587.
28. Ibid.



---


Referenced on p22 MAA-89 Byzantine Armies 886-1118 by Ian Heath & Angus McBride.
Seljuk chieftain in characteristic costume, complete with cased bow at left hip. Between the Seljuks' first appearance on the Empire's eastern frontier as an obscure Turkish tribe and their decisive defeat of the Byzantines at Manzikert in 1071, a period of only fifty years had elapsed.

A Seljuk cavalryman in Armies and Enemies of the Crusades by Ian Heath, based on this Seljuq or Khwarizmian Horseman on a Mina'i Bowl.
---

Back to the smaller image of this Seljuq or Khwarizmian Horseman on a Mina'i Bowl, late 12th-early 13th century